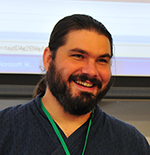 Theron Muller
Theron Muller is Associate Professor at the University of Toyama, Japan. He is also part of the Open Distance Learning staff on the University of Birmingham MA in TEFL/TESL and Applied Linguistics programs. He has researched task based language teaching, motivation, and writing for academic publication practices.
Why did you choose to work in Japan?
Like many of my friends, I came to Japan to teach English for a year in 2000, with the intention of slowly working my way around the world with the money I earned, and somehow forgot to keep moving and have been here since. My interaction with academia and graduate school started in 2002 when, after a year of experience teaching, I realized that to improve as a teacher and to further my career prospects, I would need a better grounding in language education. This led to my enrolling in the University of Birmingham MA in TESL/TEFL program, from which I graduated in 2004, and which I continue to work on as a tutor, dissertation supervisor, and marker.
What opportunities did this offer?
My first publication opportunity came as I was working on my MA dissertation, when Corony Edwards, then a lecturer on the program, invited students to submit proposals for a book on task based language teaching that she was editing with Jane Willis. One of my module papers was on that topic and I figured the worst that could happen was they say no, and so I sent off a cheeky one paragraph proposal based on which they invited me to submit a short paper for the book.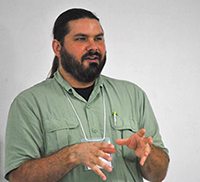 Theron Presenting
I still wonder why they had that faith in me, a 20-something from Kansas teaching at a private English school in Nagano, Japan, but after a lot of back and forth, and considerable work on their part and mine (along with the other authors on the project), a book arrived in the mail, Teachers Exploring Tasks (2005, Palgrave Macmillan), and I was hooked on academic publishing. That addiction was cemented when the book won the 2006 British Council Innovation Awards. I signed up as a volunteer with two JALT Publications, gave presentations at academic conferences, and began collaborations with colleagues.
What sort of work were you engaged in?
The years between receiving my MA in 2004 up to the end of 2009 were some of the happiest I've experienced. I was busy, yes, but I also had my own (relatively) successful private English language school, Noah Learning Center, which my former Japanese business partner continues to run, I was teaching part-time at two different colleges in Nagano, and I self-funded a number of different trips to conferences, pursuing research I was interested in. The highlight of this period was winning the John Haycraft Classroom Exploration Scholarship, which provided 1,000 GBP for conducting a classroom research investigation and presenting the results at the International Association of Teachers of English as a Foreign Language's annual conference. Winning the scholarship reinforced for me that what I was doing was of potential interest to a global audience and helped keep me working at my teaching, research, and writing.
During this time, I remember attending the Symposium on Second Language Writing 2011 in Taipei, and a senior academic from the US asked me where I was and what I did, trying to place me into one of the many boxes participants at academic conferences usually fit into, such as full time academic or postgraduate student. I remember feeling pride that who I was and what I did didn't conform to his expected categories; I was a language teacher who also engaged in research, and was neither a postgraduate student nor a full time academic.
Did you face any particular challenges?
Unfortunately when I was answering that academic's question about who and what I was, the writing was already on the wall for the lifestyle I had been living. December 2009 I received a phone call from the two universities I was teaching at part-time, and they both decided to cut my teaching hours in the new year to half of what they had been, which meant my family income also decreased by almost half. 2010 was a hard year financially for my family, and the only one of my working life where I finished with less money than I started.
This led to two consequences. One was that from 2011 I decided that since I got paid to teach, and not to do research, I would end my volunteer editing responsibilities and research to take on as many part-time teaching hours as possible. The last semester I was working part-time, I was teaching 28 different classes per week across a university, two colleges, private business contracts, and my own English school. The second consequence was that I started actively applying for full time university work across Japan.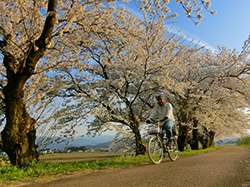 Blossom Bike Ride
My break came in the summer of 2011 when I was offered my current position at the University of Toyama and I had to decide whether I would move into academia full time or continue with the life I had built for myself. Fortunately my semester of intensive teaching without writing or research had taught me that while it was a job I could do, and do well, doing research was a passion which I really enjoyed, and so I didn't want to build a career for myself that didn't include the opportunity for investigation, exploration, and writing about my practice.
How did you find the Higher Education sector in Japan?
All positions and situations have their positives and negatives, and after starting as Associate Professor, I quickly realized that the smaller course load, six classes per week, meant I had more time than ever before to pursue my interests, but that having so much extra time also brought with it the temptation to fill my days with other obligations and responsibilities distant from my personal research interests. To help focus my endeavors, October 2012 I enrolled as a part-time PhD student at Open University, UK's Centre for Research in Education and Educational Technology (CREET) under the supervision of Theresa Lillis and Ann Hewings. As I write this essay I'm about to enter my third year of studies, and I'm happy to say that the experience of pursuing my PhD has sharpened many of the research skills I started building on my MA program in the early 2000s.
What advice would you give to someone thinking about University work in Japan?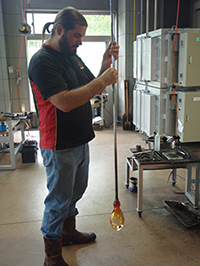 At The Toyoma Glass Factory
My PhD research topic is on Japan-based language teachers writing for academic publication, so I've talked to a lot of people about working in higher education in Japan. If I was asked to give advice for someone interested in university work in Japan, I would first recommend following your passion. I asked the head of my department why I was hired, and his reply was that the steering committee was impressed that even though I was working part-time, I had a number of publications and was active as a presenter at Japanese domestic and international conferences. But that's my story; I've talked to other teachers who excel at teaching, and so are hired on that basis, rather than on the basis of the research they do. Being clear about what your interests and ambitions are helps make it easier for potential employers to decide whether you will be the right match for the positions they have available.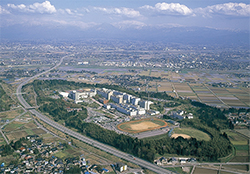 Aerial View Toyoma Campus, Japan
Also, look for the positives in adverse circumstances; while I wouldn't have chosen to have my teaching hours cut in half while I was working part-time, those circumstances led to me applying for the position I currently hold. And getting this position wasn't just a matter of being the right person at the right time; I applied for at least six full time university positions before I was hired by the University of Toyama, so in my experience part of the formula for success includes learning how to cope with and accept failure. My last piece of advice would be to create and nurture a network of supportive contacts; creating a friendship with my University of Birmingham lecturers led to my being able to join the program as a member of their part-time staff, and it's only because a friend forwarded the call for applications (along with a conciliatory message regarding a position I didn't get) that I found out the University of Toyama was hiring for my current position.
Theron Muller,Academic, Research & Teaching,Languages. Literature & Culture Jobs
---