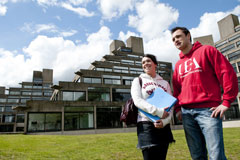 University of East Anglia
Gareth Jones enjoyed a successful career in the IT industry which spanned thirty years. He started as a systems engineer at IBM following a first degree in English Literature, and finished as Group Services Director for Aviva. At the age of 50 Gareth left the commercial world behind for good and embarked on a second undergraduate degree in philosophy at the University of East Anglia.
"I really knew very little about philosophy at this stage – my career left little time for reading philosophy books. However, the idea of the subject appealed to me as I have always enjoyed stretching my mind. It turned out to be a good decision: my background in IT meant that I had the logical mind which is important for anyone planning to study this discipline.
"I can honestly say that I enjoyed every single day of my philosophy degree. Although most of the students were under 30, they were all prepared to treat me as one of them, and I made many new friends which added greatly to my enjoyment of university life."
Gareth had a lot of fun on the course, enjoying both the (friendly!) arguments that are part and parcel of philosophy, as well as the writing and research. All of this helped him to find out what he really thought about topics such as the nature of the mind and language. As a result, he did well in his degree, and, still enthused by the subject, at the age of 53, applied to enrol on a PhD.
"At the University of East Anglia a number of us who subsequently achieved PhDs were lucky enough to be taught by Professor John Collins, a philosophy academic of world-class standing. John really sparked my enthusiasm for the subject, and encouraged me to apply for a PhD. I was in the fortunate situation of being able to fund myself, but had this not been the case, I could have applied for funding. I don't think my age would have affected my application at all. Appointments are made solely on merit and age is irrelevant.
"Before applying for the PhD, though, I had to ask myself some tough questions, as I knew it would be very different from a taught degree. Was I prepared to commit the necessary amount of time to complete the PhD successfully? Did I have the necessary self-discipline to study independently for that length of time? Would my interest in the subject continue to motivate me?"
Gareth's answer to all these questions was yes – he was used to working under pressure to tight deadlines and felt he could adapt to the research environment, and he had already demonstrated a love for his chosen subject during this first degree and was sure this would continue.
"Applications for PhDs are competitive, and even more so for funded posts. Students who obtain funding are expected to teach undergraduates during their PhD, but because I was self-financing there was no such requirement. However, I did do a small amount of teaching during my PhD.
"My research project was about computational architecture of the mind, and involved a massive literature search in fields such as evolutionary biology, computational theory and developmental psychology. I was basically using research and data from other disciplines to form original ideas in philosophy.
"I embarked on a PhD purely for its own sake rather than with a view to https://www.aviva.co.uk/finding work as a lecturer or researcher. Since obtaining my doctorate I remain involved with academic work at the university on an informal basis, discussing ideas and papers with postgraduate students one-to-one and in seminars. I really enjoy this, and I hope I put a little bit back.
"But for me the benefits are much broader than this. The PhD has helped me work out for myself what I really think on a whole range of issues – from the nature of the mind, free will, morality, politics and religion. That doesn't mean my answers are right though! And, above all, I have some fantastic friends for life who I would never have met had I not gone back to university.
"I really didn't find returning to study particularly difficult, despite not having studied for 30 years. Having said that, my work in the IT industry was intellectually taxing and I was used to using my mind logically. I did the PhD purely for myself, but this also meant that the burden was on me to deliver for myself, and at times I definitely felt it!"
Finally Gareth offers some advice for potential mature students:
"Focus, self-direction and stamina are paramount during a PhD. Study at this level can be daunting but it is also hugely rewarding.
 If you did want to try to get a first lecturing job in your 50s I am sure it would be difficult without a background of publication in your field. Published work in respected journals is crucial for funding academic departments these days, and competition for posts is intense.
Studying philosophy will help you find out what you think, and improve the way you think and approach information, and you will also meet wonderful people.
Whether you are made redundant or decide to leave your job, embarking on a PhD in your 40s or 50s is an opportunity to make what can become almost a second life. I don't regret leaving my job and returning to study at all – in fact I'm really glad I did."
Sarah Marten,PhD Studentship
---