by Sarah Marten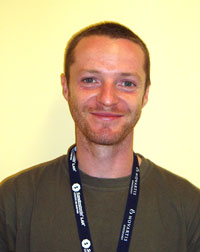 Dr Nik Morton
Dr Nik Morton is a Wellcome Trust Career Development Fellow, who last year established his own laboratory, Molecular Metabolism at the University of Edinburgh Centre for Cardiovascular Science. His research is of interest to many people: what are the genetic factors that contribute to people being lean or obese? Or, to put it more simply, why do some people appear to put on weight when they take a couple of bites from a doughnut, whilst others appear to be able to eat anything and everything and still remain slim?
Nik's research will have far-reaching implications, not only for individuals, but also in the on-going fight against illnesses such as diabetes and heart disease. These diseases are on the increase, despite wide-ranging messages about how to stay healthy. As well as teaching on undergraduate and post-graduate courses, Nik also supervises PhD students. He recently talked to Sarah Marten about his job:
What is your main role?
Most of my time here at the University of Edinburgh is spent conducting research into the genes responsible for making us lean or obese. I also teach two specific modules: 'Obesity and Metabolic Syndrome' to MSc students, and 'Appetite and Obesity' to undergraduate students in Biology and Pharmacology. Supervising the work of three PhD students is also part of my job. My job is externally funded, which means that I have to apply for competitive fellowships every few years.
What does your research involve?
I conduct experiments within the laboratory, using mice and human fat cells to look at various aspects of obesity and the process of diabetes. My research focuses on the interplay between adipose (fat) tissue and the pancreas, the organ which controls blood sugar through the production of insulin. Anti-oxidant enzymes appear to play a key role in these processes.
I am very interested in how the body deals with excess calories when someone has decided to eat too much. Looking at such questions as how adipose tissues can safely store these extra calories is of particular importance, and the way in which body shape can influence this. It seems that 'pear shapes' offer a safer distribution of bodily fat, whilst apple shaped people, who store body fat in the upper body may be more susceptible to related health problems. Body shape is genetically determined, although sensible eating and an active lifestyle are still crucial in maintaining fitness and health.
Once I have completed my research it is written up and submitted to academic journals. I have had research published in the medical journals 'Diabetes' and 'Obesity' as well as 'Science'.
Do you ever envisage a situation where there will be a pill available for obesity?
It is very unlikely that there will be a single effective obesity cure in pill form, because it is a complex genetic and environmental process. So, the messages about healthy lifestyle remain the same. However, it does appear that certain rare morbid obesity syndromes are related to genetic mutations. For me, it is important not to make moral judgements, perhaps about any possible self-inflicted element in obesity, because regardless of its origins, the disease consequences of obesity are real and we strive to find treatments. In extreme cases, obesity surgery has been beneficial and even life-saving – but we would ideally like to intervene earlier in the process to avoid such drastic measures.
How do you work with the PhD students?
My PhD students are looking into various aspects of the obesity question, such as how fat tissue becomes inflamed, how the blood supply influences fat storage and how the pancreas copes with the extra pressure on it during obesity.
I help the students to define their research areas, conduct the research, gather information, interpret data and undertake statistical analyses. Supervising their written theses is also my responsibility. The students arrive already highly motivated, although there is nothing more motivating than working together on this exciting research.
How much teaching and other related work do you do?
During term time my teaching usually takes up a couple of hours a week, not including the preparation. I also have to assess and mark the laboratory work of early stage MSc/PhD students. Undergraduate and post-graduate coursework is assessed by someone else. So while teaching is not obligatory it is good experience and a learning process for me too.
What about administration?
Administration usually accounts for another two hours a week. Much of this centres on obtaining competitive funding for my fellowships and applying to organisations such as the Wellcome Trust for funding.
Who do you work with?
This job can involve working on your own a great deal when writing things up, but I also have the support of a post-doctoral research assistant and a technician/research assistant for laboratory work. I also collaborate with other colleagues at the University of Edinburgh on many projects, and overseas, in the United States and Europe. My peers are involved in reviewing my research, helping me to meet the very high standards needed in order to have one's work published in academic journals.
Why did you choose this work?
Since school days I have always been interested in how the body works and this job gives me the opportunity to work on scientific problems and to drive my own research. This work aims to answer fundamental questions about obesity and also gives me the opportunity to contribute real knowledge that might one day impact on the health of many people.
What are the hours/working conditions?
Long hours are par for the course with this job and I often work into the evenings. Certain experiments might need me to visit the lab over the weekend. However, sometimes I work a normal 9-5, and the job can also be flexible. I have a leave entitlement of 25 days, although I rarely take the whole amount.
Which of your qualifications have been the most useful?
For me, academic qualifications are not the most important factor. Sometimes I see students with excellent academic qualifications who lack other qualities that would make them into a good scientist. Most of all you need to be able to think laterally and have perseverance and determination, alongside the ability to question everything.
What skills and personal qualities are important?
Working as part of a team is important, so you need to be able to get on with other people, and ultimately manage others. The most important quality is enthusiasm, both for your own work and that of other people. You also need to be good at exchanging ideas.
What do you enjoy about your job?
I love discovering new things, finding out things that have never been known before.
Being a researcher is like being self-employed. I feel like I am running my own business, and I manage my own work-load, budgets and my team's overall research strategy. I don't have to worry about tax returns and national insurance though, as my salary is paid via the university. The hours can also be flexible to some extent.
The excitement of getting a result during an experiment is infectious. To see a scientific mechanism at work at the molecular level is also very exciting. In my case this would be to find definitive evidence of a mechanism in the body that can make us fat or keeps us thin when faced with excessive calories.
I feel very fortunate that I am conducting unique research into a very important area, the results of which will impact future disease prevention.
Is there anything that you dislike about your work?
Your job security is limited to your current contract, which is normally short-term for about three or four years. Every few years you have to go through the process of competitive fundraising, and there are always risks attached. I consider that I have been very fortunate so far.
What prospects are there and what ambitions do you have?
I have one year's funding remaining in my present fellowship, and next year I need to apply for a senior fellowship to ensure continued funding. Alternatively, I could apply for a senior lectureship position, although clearly this would involve a great deal more teaching and I really want to focus on the same area of research for the foreseeable future.
How does this job fit into your work-life balance?
I have three children and this job enables me to leave the university two afternoons a week to collect them from school. However I normally have my laptop under my arm, and will often get on with more work once I am at home. I aim to make my family a high priority, and this job has been sufficiently flexible for me to be able to do this.
What advice have you got for potential PhD students?
Entering the world of research is highly competitive and you need to consider carefully where you want to be. It is important to get your work published, and to take on a lead role with your research ideas. Establishing your own niche is vital. You should not enter this career for the money, although the pay once you are established is reasonable.
Potential PhD students should ask themselves honestly what it is that motivates them towards a research career. You then need to get a mentor, who can advise about the ups and downs of this career.
What do you know now that you wish you had known before you started?
If I had been more career-minded from day one, rather than just driven by interest, I might be further on in my career than I am now. But I'm happy about that.
If you weren't in this job what do you think you would be doing?
I cannot think of anything else I would want to do! I suppose I have been lucky, but I could not go back and I love this exciting career.
Biography:
Nik loved sciences at school, in particular practical laboratory classes. After taking Scottish Highers in physics, chemistry, biology, maths and English, Nik Morton read Biochemistry at Glasgow University. The seeds were sown for a career in research after Nik completed an undergraduate research project on insulin resistance. Nik was then awarded a scholarship to attend the University of Buckingham to study for his PhD, which looked at the molecular basis of pancreatic function.
After obtaining his doctorate, Nik moved back to Scotland, this time to Edinburgh where he worked as a post-doctoral research assistant. Nik was given the opportunity to pursue his own research interests early on by his boss, which was instrumental for him in being able to create a niche in research. His work involved some original observations in the field of obesity research and he was then able to obtain funding for further research through an Intermediate Fellowship with the Wellcome Trust. Three years ago he took up his current post as Career Development Fellow with the Wellcome Trust. Nik is undertaking ground-breaking research into the genes responsible for determining obesity and obesity resistance.
In 2008 Nik was awarded the British Endocrine Society Young Basic Science Prize for his portfolio of work on the interaction of endocrine systems and obesity, as well as a Research Councils UK University Fellowship. He established his own lab and research group in Autumn 2008.
What do you think about this article? Email your thoughts and feedback to: careers@jobs.ac.uk
Sarah Marten,Professional, Managerial & Support Services Jobs
---