by Sarah Marten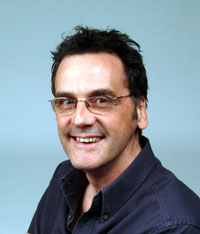 Chris Green
Chris Green is a lecturer and manager at Buckinghamshire New University and is based in the School of Design & Craft within the Faculty of Creativity & Culture. He is course leader for various undergraduate craft programmes and also has considerable management responsibilities. However, his real passion is for teaching and his students are at the forefront of everything he does. The students represent a broad mix of ages, and come from all walks of life, academic backgrounds and levels of practical ability.
What is your job title?
My main job title is Craft Portfolio Leader which means that I am responsible for the craft based courses at Buckinghamshire New University. I am also the course leader for the undergraduate BA (Hons) programmes in Silversmithing, Metalwork & Jewellery, Jewellery, and Ceramics & Glass. My own specialist area is jewellery and silversmithing.
What does your job involve?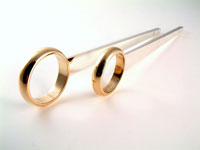 'His & Hers Tea stirrers' by Chris Green
The Portfolio Leader is a fairly new concept in our University. For me this role inhabits the ground between teaching, our specialist course teams, the senior management of the Faculty of Creativity & Culture and the University itself.
My job is an interesting mix of teaching, management and leadership. I am the focal point, both internally and externally for craft courses here at Buckinghamshire New University. A key part of my role is to forge mutually beneficial links with the outside world and keeping abreast of opportunities to enhance the student experience.
What sort of external links have you established?
Live projects are a great way to involve students in the wider world of design. Our students have been successful in the annual 'Pewter Live' competition for second year students organised by the Worshipful Company of Pewterers. They set a design brief, which encourages the use of pewter in modern products.
Every year our students also participate in a competition with a commercial jewellery company. This year the brief was to produce a matching engagement and wedding ring. The students have to familiarise themselves with the clients before embarking on the design and making process.
This year we also entered a competition run by the Victoria and Albert Museum which involved students designing contemporary jewellery inspired by a particular historical period. The winner's work will go into production and will be available for sale in the museum's shop.
All these competitions help to inspire and motivate the students, and also provide the opportunity to develop the skills they will need for the future.
What does the management aspect of your work involve?
I interpret and implement the strategic direction for the craft courses which have been laid out by the senior management teams. This includes establishing links with industry and developing staff research interests. I also provide operational support for my Head of School. As well as full-time degree courses, we are now diversifying into the delivery of a range of part-time courses. I see myself as breaking down the barriers between traditional course areas to facilitate a richer and more eclectic student experience.
I have four academic staff to manage and we all work closely together. Organising meetings for our team is also part of my job, where we can discuss issues and plan our work.
As Craft Portfolio Leader I am ultimately responsible for the management and administration of the courses. This involves ensuring that the curriculum content is academically rigorous and that all the right systems and processes are in place so that everything runs smoothly.
What about your teaching?
My teaching is very practical and studio/workshop based, and spans all three years of the BA (Hons) in Silversmithing, Metalwork & Jewellery, and BA (Hons) in Jewellery. However, my main teaching responsibility is to the first year group of about 15 students, now known as level four.
The translation of ideas into metal and other materials is what my teaching is all about, within the concept of 'design as a process'. I demonstrate technical skills related to creative thinking to groups of students in practical workshops, which increase in sophistication, from starting at a very basic level.
One-to-one workshop teaching enables students to develop their craft skills on an individual basis. We also have discussion groups based in the studios, and individual studio or workshop-based tutorials on ideas development. Other topics I teach include developing drawing and communication skills, and the beginnings of professional practice.
Why did you choose this work?
Initially, I didn't choose the work – the work chose me! Back in the late 1970s and early 1980s I was a student at Buckinghamshire New University, when it was a College of Higher Education. I completed at BA (Hons) in Three-Dimensional Design specialising in silversmithing and jewellery. Following my graduation in 1980 I went straight to work in the industry, working for a small firm who did a lot of work in platinum.
Somehow my old course leader at Bucks heard about this and invited me back to the college to teach a platinum design competition. At first I thought he was mad and my initial reaction was to turn down this invitation. To cut a long story short, I did take on the teaching and it was a fantastic experience. I remember going home after the first session, completely exhausted, but with a sense of pride and satisfaction I had never felt before. I was hooked.
The students are the most important aspect of my job. As my career has progressed I have become more involved in leadership and management at the University. However, I am only motivated by the desire to provide courses and teaching of the highest quality, rather than any sense of personal advancement.
How do you motivate and engage the students?
I always make the students my top priority, and the new first years realise this within minutes! We are on a developmental journey together, and even though I might be a bit older and more experienced than them, they constantly surprise me with their ideas and challenge me as a person.
Developing exciting project briefs, working on live industry projects, and making the workshop sessions fun and interactive for students all help with motivation. When things go wrong you have to be prepared to laugh at yourself. Sharing in their excitement when the students start to understand the methods and supporting them when they are struggling is all part of this process.
What are the hours/working conditions?
This is not a 9-5 job! I often start early, leave late and work at home during the weekends, but this is my choice – for me this is a vocation rather than a job. It can be very hard to fit everything in as my passion is teaching. I tend to juggle the managerial and administrative aspects of the job around that.
The working conditions at Buckinghamshire New University are good. I share an office with other tutors on the metal and jewellery courses, with the studios and workshops right next door, which is an ideal scenario. We are currently in the middle of a major rebuilding programme, and ultimately we will have premises that will allow far greater integration between the subject areas. I can't wait for that!
How did you get into this type of work, and which of your qualifications were the most useful?
My interest in this area came from an excellent metalwork and craft teacher at school. My mother still has a little copper ash tray I made back then! I was always making things with my father in his shed and I was also totally inspired by a family friend who had studied silversmithing and jewellery.
The BA course I did taught me both design and making skills and also gave me the opportunity to explore ideas and to take risks.
I also completed a Gemmological Diploma whilst working in the industry, and this has enabled me to talk to students with authority about gemstones and design capabilities. Most recently my MA in Leadership and Management for FE and HE has been a great help with my management responsibilities here at Buckinghamshire New University.
What skills and personal qualities are important?
Good communication skills are vital, along with patience to deal with students and good listening skills. You also need to be passionate, conscientious, motivated and enthusiastic. The students will not take you seriously if you do not have creative and practical skills in equal measure. A sense of humour is also important, and you also need leadership skills, and the ability to work under pressure and show initiative.
What do you enjoy about your job?
There is no better reward for me than when I see a student's eyes light up when they have achieved something through the skills that I have taught them. And when I realise that I can be instrumental in constructing and managing what is taught – that's just brilliant!
Any dislikes?
The increasing amount of administrative work which goes with my position can be quite tedious, especially as I am a 'hands-on' practical and creative person.
What prospects are there and what ambitions do you have?
The next logical career move for me would be to a greater managerial role such as head of school or head of department. However, this does not interest me, as I want to maintain my links with students and the 'shop floor' whilst influencing and shaping what goes on there. Moving further into the managerial world would take me further away from what I enjoy.
How does this job fit into your work-life balance?
I can't leave this job at the University gates every evening and I probably wouldn't want to. Those people who know me well understand that my job is a very high priority in my life. But I do have a studio at home, and find the time to work on my own creations.
What do you know now that you wish you had known before you started?
My generation fared very badly when it came to learning computer skills. I have to use a computer all the time and it still baffles and confuses me! The University do offer excellent IT training, but it is about finding the time to fit it in.
What advice have you got for people interested in this career?
If you are enthusiastic about making a difference to people's lives, if job satisfaction is what drives you, and you want an interesting and stimulating life then go for it! I am certainly not in this career for a high salary.
If you weren't in this job what do you think you would be doing?
I really can't imagine doing anything else. The only other job I would consider is working as a jewellery designer/maker in a small firm, exactly what I did before teaching came into my life.
Biography
Chris Green completed A levels in Geography, Design and Technology, Art and Sociology, which he followed with an Art and Design Foundation Course at Buckinghamshire College of Higher Education. Staying on at Bucks, he completed a BA(Hons) degree in 3D Design, specialising in silversmithing and jewellery.
Chris's dream had always been to be his own boss working as a designer/maker, and after an initial period of working for an established practitioner, he began a small jewellery manufacturing company with two friends. The business developed and moved into new premises to encompass retail as well as manufacturing. Chris was then offered the opportunity to work as a part-time teacher in the Silversmithing and Jewellery department back at Buckinghamshire College of Higher Education (now Buckinghamshire New University). In 1992 Chris was appointed to his first full-time teaching role, and in 1998 he was appointed Course Leader of the BA (Hons) Designed Metalwork & Jewellery course. In 2000, he wrote the BA (Hons) Jewellery course which was successfully validated and which he also leads. He has been the Portfolio Leader for the Craft area at Buckinghamshire New University since 2007. He is also a Fellow of the Gemmological Association of Great Britain.
What do you think about this article? Email your thoughts and feedback to: careers@jobs.ac.uk
Sarah Marten,Academic, Research & Teaching,Professional, Managerial & Senior Admin
---