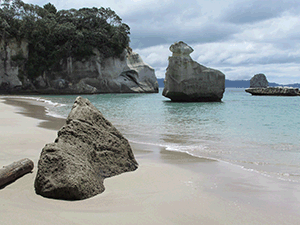 Beach on the Coromandel Peninsula
Jean Rath is an independent scholar based in Christchurch New Zealand and an honorary research associate of the University of Oxford's Learning Institute. Her main research interest is academic practice (teaching, research and service) and the experiences of early career academics. A second focus is writing as a method of inquiry to investigate culture, memory and reflection. She made New Zealand her home in 2001; however, she continues to take up interesting international academic and management opportunities as they arise. As a result, during recent years she has worked at universities in New Zealand, Australia and the UK.
Please can you tell us a little bit about your current role in New Zealand?
As an independent scholar, I mostly pursue individual research projects; however, I also belong to an Oxford-based team of researchers and co-write papers with colleagues from institutions in New Zealand and Australia. I also facilitate academic development workshops on a range of topics including: academic career building, productive group work, creative writing in qualitative research, strategies for doctoral supervisions, etc.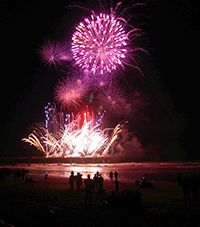 Fireworks New Brighton
Please tell us about your experience abroad?
I have worked in academic and professional development roles in three New Zealand universities (Victoria University of Wellington, the University of Canterbury and the University of Waikato). My teaching in NZ has all been at postgraduate level, where class sizes are small and the cohort includes a large number of international students. As my area of expertise is academic career building, I have also worked with early career academics and doctoral candidates from a variety of academic disciplines. In recent years I have moved between the UK, NZ and Australia; now I have working relationships with academics in each country, which enables me to maintain an active research profile in tertiary sector educational research.
What prompted your decision to move to New Zealand?
Although I enjoyed my research post at the University of Bristol, as a family we were keen to experience living in another country. Neither my husband nor I had ever been to New Zealand, yet we were drawn to the country's reputation as a place of great natural beauty, low-stress approach to life and commitment to biculturalism. As our children were aged 7, 9 and 11 when we moved it was also important to us the state schooling system would provide good quality English language based education. We were also looking for a location where both my husband (a software engineer) and I could find employment in the same city. From a professional standpoint NZ offered me the opportunity to work with high quality researchers and the workplace flexibility to accommodate the needs of three school-age children. We were also attracted by the lifestyle option of living in Christchurch, a small city by international standards, within easy reach of the Southern Alps and the Pacific Ocean.
We found obtaining residency in New Zealand to be straightforward; we completed the necessary paperwork ourselves with no need to employ an immigration agent to navigate the bureaucracy. After several years with permanent residence status we applied for NZ citizenship and now hold both British and NZ passports.
How do you find the Higher Education sector in New Zealand?
The Higher Education sector in New Zealand has many similarities with the UK sector. There are comparable, though in my experience less intense, pressures to publish, win research funding and maintain teaching standards. It is also expected that academics undertake committee work as service to the institution and/or the discipline. New Zealanders' generally hospitable and relaxed approach is evident with most institutions enjoying a pleasant day-to-day culture with accessible senior management and good working relationships between administrative and academic staff.
NZ is well regarded internationally in several research areas and definitely 'punches above its weight' in certain areas, e.g. agriculture, marine and forestry studies which relate to important areas for the national economy. As in the UK, research funding is limited and extensive peer review processes are used to allocate funds; universities offer support in writing funding applications and several run mentoring schemes to help novices discover the expectations of various funding bodies.
A key feature of the NZ Higher Education sector is the way in which universities support staff to maintain strong global networks of colleagues; this reduces the risks associated with NZ's comparative geographic isolation and small research sector. Academics with ongoing contracts will be eligible to apply for sabbatical/study leave – during which time overseas travel is encouraged; however, this will include clear expectations of tangible research outputs as a result.
How does university teaching differ from the UK/overseas experience you have had?
New Zealand universities have expectations regarding teaching quality and adopt minimum standards that all lecturers are expected to meet. Currently, NZ has no equivalent of the UK's Higher Education Academy accreditation, although there is a national body, Ako Aotearoa, which supports tertiary educators and runs a range of workshops. In my disciplinary area students seem to appreciate international lecturers who are aware of the Oceania context. I find that including a range of regional examples and resources is welcomed by most learners. Embedding teaching in the local area has the dual advantages of encouraging students to relate to the material and enabling me to strengthen understanding of my new homeland.
What have you enjoyed most about your job in New Zealand?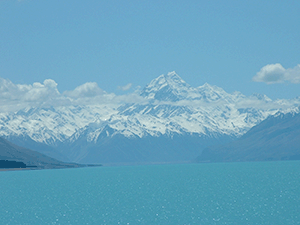 Lake Tekapo
Many international academics opt to live and work in New Zealand and the university student population is similarly diverse particularly at postgraduate level where a policy of charging domestic fees for all doctoral candidates has resulted in an increasingly international student cohort. Working in such a cosmopolitan environment has been a pleasant surprise, as has learning about Māori history, culture and language. Whilst NZ university life has similar demands to the UK academic workplace overall there appears to be greater flexibility to follow your own interests and to take advantage of the kiwi lifestyle. Life beyond the working environment is respected and, with NZ's beautiful natural environment (it really does look like The Lord of The Rings movies) and temperate climate, outdoor activities can be a major pastime.
Do/did you face any particular challenges?
Of course, a big challenge remains the distance away from family and friends in the UK, though we do return as often as possible and are always happy to host visitors. Undoubtedly, the biggest challenge has been dealing with the Canterbury earthquake sequence. New Zealand is in a geologically active zone, which results in the spectacular mountains of the Southern Alps and the beauty of the North Island's geothermal areas. The city of Christchurch suffered substantial damage in the earthquakes of 2010 – 2011; this included the loss of life in the February 2011 quake and the necessary demolition of much of the city centre. We were lucky as no family members were injured; however, our home was damaged and the complexities of the NZ earthquake insurance process have slowed down repairs. Christchurch itself is now bouncing back, with rebuilding and redevelopment creating a vibrant and exciting city culture. So, don't let the occasionally shaky ground deter you from relocating to NZ.
Have you got any advice for other academics planning to work/return to New Zealand?
Be prepared to understand the requirements of the Performance Based Research Fund (PBRF), which is NZ's quality-related research funding equivalent of the UK's Research Excellence Framework.
New Zealand has a small population (little more than half the population of London); whilst this contributes to the country's relaxed and welcoming approach, it does mean that there may be fewer opportunities in some specialist areas. On the plus side, the leaders in each discipline are approachable and being 'well networked' is an automatic side effect of living in a smaller community.

Skiing Southern Alps

NZ officially recognizes the indigenous Māori people as the Tangata whenua (literally, 'the people of the land'). Consequently, Māori values, priorities and customs must be respected in both teaching and research. Most institutions will run professional development events to help newcomers become familiar with Māori protocol and basic language.
NZ has a diverse higher education and research sector with universities, Crown Research Institutes, private research institutes, polytechnics, private training establishments and wānanga (tertiary colleges that educate in Māori cultural traditions). Academic jobs are available across this range of institutions, so remember to look for vacancies in unexpected places.
What are the top 3 reasons you choose to work for your current institution?
I resigned from my permanent academic post to become a freelance scholar to allow more time to pursue non-academic interests.
The small yet diverse higher education and research sector means that it is easy to maintain formal and informal links across the country. I am also well-embedded in several overseas research/writing networks, which allows me to maintain positive working relationships with a range of academics and scholars.
On a mundane level, the tax system is simple to understand and supports small businesses. This low administrative burden makes self-employment an attractive and straightforward option.
Jean Rath,Academic, Research & Teaching,PhD Studentship
---