Michael Coaker is a lecturer in Culinary Arts at the London School of Tourism, Hospitality and Leisure at Thames Valley University in Ealing. He is part of a close-knit team of 20 chef/lecturers.
He recently met Sarah Marten, who talked to him about his job.
What does your job involve?
My role is two-fold. As a lecturer I deliver teaching to students following the BA in Culinary Arts and other vocational courses and, as Curriculum and Production Co-ordinator, I ensure that our teaching is relevant to the needs of industry. Our eight training kitchens offer TVU students a real working environment and the food prepared in classes is always utilised, usually in one of our training restaurants. Our own Pillars Restaurant was awarded UK College Restaurant of the Year 2007, and I oversee the work of the students there, including food preparation.
What else does your teaching include?
Within the BA in Culinary Arts I teach the practical skills a chef will need, including food preparation and cooking, the use of knives, and how to make pastry, sauces and soups. I also prepare and deliver lectures on how to run a restaurant, organising promotions and themed events, the costing of menus and health and safety issues.
Are there any other aspects to the job?
I am fortunate in that TVU enables me to participate in community work, and I regularly visit local schools to teach the children about food and cooking, In addition I organise courses, prepare lesson plans and schemes of work, mark assignments and attend regular meetings. Interviewing potential new staff members is also part of my job.
What hours do you work?
My working day often starts at around 7.00 am and I rarely leave before 6.30 pm. Teaching time accounts for about 18 hours per week, with the remaining time taken up with the many other aspects of this job. I often find that I also need to do some preparation at weekends. A perk for me is six weeks holiday a year!
Tell me about the role that employers play within your courses?
Change is fast-paced within the hospitality industry and in order to prepare our students for their future careers, we need to make sure that they are informed about what is happening in the workplace. It is possible to become cocooned in the educational environment, and I ensure that our students are not isolated from the real world. To this end, we have the widest range of industrial placements in the whole university, which include the Ritz, the Dorchester Hotel, Claridges and Gordon Ramsay's Maze restaurant. Part of my job involves ensuring these placements run smoothly, and that students complete their portfolios accurately. I also help to organise student placements in several prestigious event and contract caterers based in Central London and the West End. We also have an exciting programme of visiting celebrity chefs who run demonstration classes.
What attracted you to Higher Education?
I have been involved in training and teaching chefs all my life. After I was made redundant from one hotel I was offered the opportunity to help out with teaching at TVU. I later applied for a lecturer position and was offered this. Going into full-time teaching was a natural progression for me.
Have you undertaken any further study?
Once I had been in post at TVU I completed the two-year Level Five City and Guilds
Diploma in Teaching in the Lifelong Learning Sector (DTLLS) within the QTLS framework.
After leaving school I completed a two-year full-time City and Guilds course for professional chefs, but I was never very keen on academic work at school. Looking back now, it would have been beneficial for me to have continued my education whilst working.
How do you motivate your students?
We organise many different events which engage and involve our students. Three students recently enjoyed being part of the audience in Gordon Ramsay's Channel 4 'Cookalong' programme. Competitions are also a great motivator, despite the sheer hard work involved. They help students to improve their skills which, in turn, makes them more marketable as individuals. Recent TVU successes have included the Norwegian Seafood Student Challenge award, and the culinary prize in the UK Skills competition.
What do you enjoy about your work?
The comradeship and contact with other lecturers is great, as there is so much energy and enthusiasm within the team. Our students are on an incredible journey; they arrive at the start of the course, perhaps aged 18 with few or no skills, and leave three years later as completely different people. The improvement is amazing and students regularly return to tell me how they are getting on in their jobs. They also thank us for their time at TVU, which is very rewarding.
Are there any challenges?
I need to ensure that my students enjoy the learning experience and at the same time benefit from it. The hospitality industry is fast-moving and sometimes education does not respond quickly enough. On the practical side, sourcing fresh ingredients locally is important to me, but this has obvious cost implications.
Have you any advice to give to anyone who is considering becoming a lecturer?
Be prepared to work hard and to be flexible. At times you may need to do extra work, such as working with students on a one-to-one basis. The students are the most important part of what we do and without them we would not be here.
Describe the skills and abilities a lecturer needs
You need to be a good communicator who can present lectures and classes in an exciting way. Confidence and absolute enthusiasm are vital, as these qualities will rub off on your students. Everything you do is about bringing out the best in your students and encouraging them to achieve and improve. You cannot allow one student who is perhaps having a bad day to spoil the learning experience for the whole class. If this happens, I draw on my experience of working in restaurants and involve them in the group in a more practical way.
What demands does a career in professional cooking make?
Working as a chef is not for the faint hearted! There will be unsocial hours, including evenings, weekends and Christmas Day. The first ten years are the hardest. During this time you need to demonstrate your aptitude and willingness to learn. You will be working in hot kitchens, often situated in a basement. Despite all this, I have always loved the work!
Is there anything that you know now that you wish you had known before you started?
Whilst working as a chef I did not pay attention to the academic side of life, and I was not really aware of lifelong learning. Preparing lessons is harder than I thought and it is essential to be 100% prepared.
If you weren't in this job what would you be doing?
I would be a farmer. Farming is important to me, and chefs and farmers have more in common than many people realise. I am passionate about organic farming and I always choose local fresh produce wherever possible.
Biography:
Michael Coaker joined Thames Valley University (TVU) as a lecturer after a career as an executive chef in top hotels and restaurants spanning over 30 years. He worked as sous chef at the Dorchester under the watchful eye of Anton Mosimann and was a mentor to Gordon Ramsay. He has travelled all over the world as a chef, including visits to Australia and Kuala Lumpur as British Chef Ambassador for Intercontinental Hotels.
Michael's infectious enthusiasm for food and cooking is matched by a desire to see his students at TVU achieve success in their courses and ultimately their chosen careers. He is a firm believer in the engagement of industry and education, and ensures that all TVU Hospitality students are in touch with the latest developments and trends. His role is wide-reaching, extending into local primary schools, where children as young as eight have the privilege of benefiting from Michael's experience and talents in specially tailored cookery classes. Michael has been named the 2008 Education Chef of the Year. He is also Chairman of the Academy of Culinary Arts 'Chefs Adopt a School' initiative.
What do you think about this article? Email your thoughts and feedback to: careers@jobs.ac.uk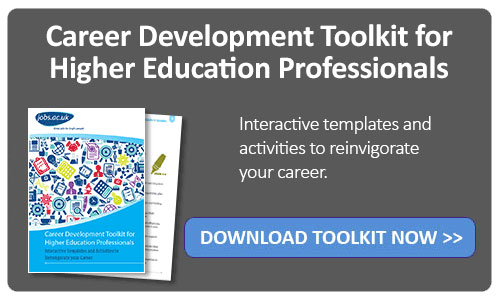 Sarah Marten,Sport & Leisure Jobs
---