Iuni Trist is in the latter stages of her PhD in medicinal chemistry at Cardiff University. Iuni's route to a PhD began in Italy and her reflections may help those reading this who may be considering coming to the UK to undertake their research.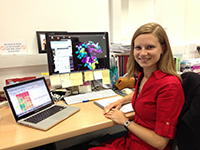 Iuni Trist, PhD Candidate in Medicinal Chemistry
What was your educational background/qualifications before doing a PhD? Which Universities did you attend for your Undergraduate and/or Masters and did you spend any periods of time working before you began your PhD?
My undergraduate degree was Masters-equivalent Italian degree in Chemistry and Pharmaceutical Technology, from Padova University, in Italy. This is a five year degree and I continued on to a PhD immediately after I had completed my first degree.
What is your research area/dissertation title and why did you want to research this area?
My thesis title is "In silico design of novel inhibitors of dengue virus replication."
This is a Medicinal Chemistry PhD that involves both molecular modelling and synthetic chemistry with the aim of designing novel drugs against dengue virus infection. Dengue virus is becoming a serious worldwide concern and as it can be lethal, it is important to discover novel therapeutic agents. However, even if the research topic is very interesting, I was more interested in the methodologies involved: molecular modelling and synthetic chemistry.
When did you decide that you wanted to do a PhD and why?
I have always been a very curious person that loved to learn new things. So, when at High School in Italy I was doing lab work I discovered that research was the road I wanted to pursue. During University I understood that in order to do this I had to get a PhD and I went for it.
Can you describe the applications process and did anyone help you to prepare your application? What sources of information did you use to find out about PhDs opportunities?
My current PhD supervisor talked to me about the PhD project I am working on while I was in his lab working on the thesis project I had carried out whilst I was on an Erasmus scheme and he then helped me with all the process. I had used findaphd.com to research PhD opportunitie
Did you have interviews for your PhD? If you did can you describe what they were like?
As I was already working with my supervisor, I had more of a chat about the project rather than an interview.
What have been the main differences between undergraduate/masters study and being a PhD student and what have been the main challenges you've faced in your PhD?
Definitely the main difference has been being in the lab and doing more independent work, rather than simply studying textbooks and following procedures designed by other people.
The main challenge which has also helped me to "grow" as a scientist has been to work independently and to find new ideas to tackle problems. Then, a second major challenge is now, at the end of my third year: finish everything in time and write up all the data.
What other experience have you gained during your PhD?
During my PhD I have followed many workshops (e.g. for presentation skills, team work, time and project management, etc.), I have done some demonstrations, I have contributed in building a blog on virology with other virologists, I have spent one month in Marseille University learning biochemical assays and I have helped my supervisor to organise a one week training.
What has been the most enjoyable aspect of your PhD and what skills/behaviours and attributes have you developed personally and professionally during your PhD?
I really enjoyed the research and to work with really motivated people in the lab, even if we were all working on different topics. Then, I enjoyed all the extra experiences described above as these gave me a more complete experience.
During my PhD I have learned to manage a research project both independently and in a team. Furthermore, I was able to establish and maintain interesting and useful collaborations with other institutions. I have also improved my presentation and teaching skills as well as specific technical ones related to molecular modelling and synthetic chemistry. I think I have also learned to deal with pitfalls as scientific experiments do not always go as planned.
What were your career plans when you started your PhD? If they have changed what career area do you want to go into now and why have you changed your plans?
When I started I was sure I wanted a career in Academia. Now, that I have seen how Academics spend their time (e.g. looking for money all the time) I am also considering the possibility of a job in an industry.
What top tips would you give to someone who is considering doing a PhD in your academic discipline?
I would suggest to make the most out of it and to exploit every chance to get a complete experience. Do not focus only on the research subject and learn to be flexible.
Clare Jones,PhD Studentship,Masters
---