by Sarah Marten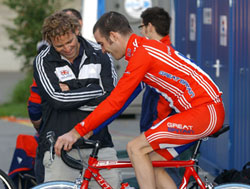 Dr Gary Brickley
Dr Gary Brickley combines a busy job as a Senior Lecturer within the University of Brighton's popular and successful Sports and Exercise Department with an exciting role training Great Britain's Paralympic cycling team. At the Beijing 2008 Paralympic Games he coached three cyclists who came home with eight gold medals and one silver between them.
Gary embarked upon his present career as a mature student, having spent nine years in the Royal Navy as an engineering technician and after leaving school with just five O levels.
What does your job involve?
As a senior lecturer at the University of Brighton my main responsibilities are for teaching, preparation and marking, laboratory work, research, consultancy and the inevitable administration that goes with this busy role.
My job involves a considerable teaching commitment, both to undergraduate BSc students in Sports Science, Exercise and Health Science and Exercise Science, and to Masters students. I am course leader for the MSc courses in Applied Exercise Physiology, Sports and Exercise Science and Exercise and Health. Teaching exercise physiology, sports nutrition, and sports performance to undergraduate students takes between eight and ten hours a week. The teaching commitment for the MSc students is less at around two hours weekly. Preparation and marking are also important, although the preparation takes less time the longer you are in the job.
What does the laboratory work involve?
The development of laboratory skills is an integral part of our courses here at the University of Brighton. The students undertake exercise testing, both with athletes and patients. For example, we look at how obesity and diabetes might be affected by exercise, and also perform dietary analysis. Students are taught to use equipment including Electrocardiograms (ECG) machines.
Do you have any PhD students?
At present I supervise three students who are now nearing the end of their PhD studies. To start with I help them to work out a viable research project, and meet with the students for about two hours each week. As their work progresses I also encourage the students to do some teaching, which I supervise to begin with. The amount of time spent meeting with PhD students varies throughout their studies. As they come closer to completion I then spend more time reading and marking their work. Teaching statistics is also part of my role with these research students.
What about your own research?
Most of my own research has stemmed from my PhD dissertation on exercise physiology and limitations to high intensity exercise performance. Over the last ten years I have been focussing on publishing this work and developing it further. In addition to this I have been involved in clinical research. Using a grant from the Brighton University Hospital Trust we have recently undertaken research using children diagnosed with cystic fibrosis. The research involved exercise testing and comparing their results with those of their healthy classroom peers. We found that the children with cystic fibrosis were much fitter than we had thought, but that they take longer than other children to recover from exercise and can often do more than they might have otherwise thought.
What does the administrative side of your work involve?
As course leader for the MSc courses I deal with admissions and assess potential students, including the increasing number applying from overseas. I usually have a two-hour meeting every three weeks with other members of staff, perhaps dealing with an examination board or about issues relating to the course modules or research. Constant evaluation of all our courses is a vital part of my job. I also do external examining of other courses throughout the country.
Do you have a role as a personal tutor?
I am a personal/academic tutor to around 15 undergraduate and another 15 MSc students. Students come to me with a range of issues, including anxieties about academic performance or possible plans to discontinue, to medical/family issues or future career plans. Establishing a good relationship with students is really important to me.
What does the consultancy side of your work include?
We have a consultancy centre for sports sciences at the University of Brighton. Over the past few years I have carried out support work for athletes in triathlon and cycling. Since the 2000 Sydney Olympic Games I have directed most of my energies towards coaching the Paralympic cycling athletes.
In 2008 I coached three cyclists for the Paralympic games at Beijing, who through their own efforts did so well, and came back with a clutch of medals. Before the Games themselves we visited Beijing to familiarise ourselves with the environment and to become acclimatised to the heat. I look at how the athletes respond to training and measure their performance on their bikes. We also went on various training camps around Europe, and I coached the athletes during races. Much of the training is remote, and I keep in touch with the athletes by email and phone.
The University of Brighton have been really supportive to me in this work, which in an Olympic year takes about four weeks a year of my time.
What careers do your students progress to and has this been affected by the recession?
The sport and leisure sector has not been affected by the recession as much as other industries. About a third of our students go on to train as PE teachers in schools, and the rest pursue postgraduate study or are successful in obtaining jobs in exercise and health, cardiac rehabilitation and health promotion. The University of Brighton has excellent relationships with outside organisations and this really helps.
Why did you choose this work?
I joined the Royal Navy at 17 to take advantage of the sport, travel and education. During my career in the Royal Navy I completed an HNC in Engineering but still had a love of sport. When I left the Royal Navy I came to Brighton to take a degree in Sports and Exercise Science, and although as a mature student I found the first year hard, I soon caught up and found I could be more focussed than some of the younger students. After graduating I stayed on to work towards my PhD, and ended up in Australia for my last year.
After my PhD I worked for British Cycling as an exercise physiologist for a year, and was then fortunate in an application to become a lecturer in Sports Science back at the University of Brighton. Sports has always been so important to me – whilst at school I played water polo for my county and later for the Combined Armed Forces and since then I have trained in running, triathlon and swimming
How do you motivate and engage the students?
The students really enjoy our courses here at the University of Brighton, which are not only of a very high standard, but also mix practical and theoretical components. Our links with sports organisations are excellent, and mean even our undergraduate students can choose from a variety of work placements, ranging from hospitals to football or rugby clubs.
What are the hours/working conditions?
I usually start early at around 8 am and aim to finish by 6 pm, although you have to work later on occasions. I try to work Monday-Friday, although there are times when I need to complete work at weekends. The working conditions at the University of Brighton are excellent, and we also have good gym and swimming facilities and we are right on the South Downs which is an ideal location for running. I work in a team of twelve lecturers, and there is a great friendly atmosphere. We have about 35 days' annual leave, although I never take my full entitlement.
Which of your qualifications were the most useful?
A PhD is definitely essential, and I have also found my MSc in cardiology really useful.
What skills and personal qualities are important?
Firstly you need to be approachable and centred both on your students and the athletes. It is also important to be open to new ideas and to have the drive to change things. You also need to hard-working, highly motivated and flexible in your approach to working hours. Being sensitive to students' needs is also important, so that you can pitch your teaching at the right level and also stretch the more able students.
What do you enjoy about your job?
I love my job, and enjoy the variety, the location here on the South Coast in Eastbourne and working both with athletes and medical patients. I really enjoy influencing change in people. People can often be pushed with their exercise more than they sometimes think, with the resultant health and medical benefits. Working with often elderly patients in cardiac rehabilitation is also very satisfying.
Knowing that some of the Paralympic athletes I have trained have not only received gold medals but have also gone on to achieve MBEs and OBEs and a successful sporting career is immensely rewarding. The whole experience of being involved in the Paralympic Games at Beijing was brilliant. I also enjoy the travel that this job brings.
What are the challenges?
Achieving a good balance between your lecturing, consultancy and research can sometimes be a challenge. The marking can sometimes grind you down, but it has to be done!
What prospects are there and what ambitions do you have?
Achieving a Principal Lectureship would interest me, and having a greater leadership role within the University of Brighton. I also want to build our department's research base.
How does this job fit into your work-life balance?
I love the South Coast location which gives me the opportunity to purse sporting interests such as surfing and running.
What do you know now that you wish you had known before you started?
In this career many of your opportunities are made through meeting people at conferences and events. It is important to make the most of this as you really can create your own destiny.
What advice have you got for people interested in this career?
Aim to get a PhD and undergraduate and postgraduate experience with athletes and medical patients. Voluntary work can be very beneficial, perhaps in a sports setting or hospital.
If you weren't in this job what do you think you would be doing?
I would be working in coaching or sports performance.
Biography
Dr Gary Brickley has worked at the University of Brighton for the last ten years, nine of them as Senior Lecturer in Sports and Exercise in the Chelsea School, which is in the Faculty of Education, Sport and Leisure. After leaving school at the age of 17 with five O levels, Gary worked as a technician in the Royal Navy, and obtained an HNC in Engineering, working his way up to Chief Petty Officer.
After leaving the Royal Navy, Gary completed a degree in Sports Science at the University of Brighton, after which he completed a PhD, still at Brighton. With a year's relevant experience working in the field of sports physiology he moved back to Sussex to start his lecturing career at the University of Brighton. Whilst working as a lecturer Gary also completed his MSc in Cardiology. After one year he was promoted to Senior Lecturer. Gary also has an important role as a coach for some of Britain's top Paralympic cycling athletes, which involves him in extensive travel throughout the UK and abroad.
What do you think about this article? Email your thoughts and feedback to: careers@jobs.ac.uk
Sarah Marten,Sport & Leisure Jobs
---