by Sarah Marten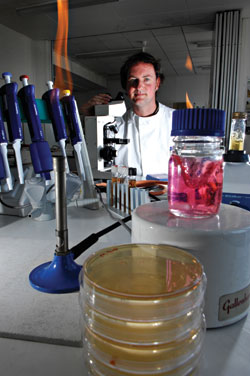 Dr. James Ebdon
Dr James Ebdon's role as senior lecturer at the University of Brighton combines an interesting mix of teaching, research, international workshop facilitation, and conference presentations. His ground-breaking research has helped to discover a bacterium in sewage which can be used to develop simple and inexpensive tests for water pollution detection. This could potentially help reduce the burden of water-related diseases such as cholera and dysentery and ultimately save lives throughout the world. Whilst at school James had little interest in a career in scientific research – he initially chose engineering, but is very glad that he made this career move. He is fascinated by the real applications of science and how this can be used to solve everyday problems.
What does your job involve?
I am an environmental microbiologist and conduct research into the presence of micro-organisms, such as bacteria and viruses in aquatic environments, including river waters, bathing waters, drinking water, sediments, and shellfish. My work divides into a roughly equal 50/50 split between research and teaching, although the duties vary according to the time of year. The summer academic break is the ideal time to catch up with all my personal research work.
As a senior lecturer the amount of time spent teaching varies, but on average I spend between six and eight hours each week giving lectures. I supervise student research projects and teach on a wide range of courses, including BSc/BA Geography and Geology, BSc Environmental Sciences, BSc Environmental Hazards, BSc Biological Sciences, BEng/MEng Civil Engineering and MSc Water and Environmental Management.
Do you supervise the work of PhD students?
Weekly meetings with our five PhD students, alongside my colleague Dr Huw Taylor are an important part of my work. All our PhD students are either employed by research institutes or in receipt of university studentships/scholarships and all work towards common research goals. The research group is truly international with PhD students and Post Docs from Cameroon, Brazil, India, and Portugal, bringing diverse experiences that helps inform our international research.
I also arrange individual weekly planning and evaluation meetings with each PhD student, and as our work is heavily lab-based, we need to organise the logistics of sharing the laboratories and equipment. In addition, I am also the Deputy Research Student Division Leader (RSDL) with responsibility for academic well-being, student progress and pastoral support for 67 postgraduate researchers undertaking MPhil/PhD qualifications within the School of Environment and Technology. Our PhD students all start with an MPhil qualification, and I help organise meetings to outline their research and facilitate their possible transfer to the PhD.
What else do you do?
Writing proposals for research initiatives is a vital part of my work and I have recently helped to secure 2.9 million Euros European Research Development Funding with Dr Huw Taylor for a joint collaborative venture we manage and which involves the UK Environment Agency, University of Caen and the French Research Institute for Exploitation of the Sea (IFREMER).The publication of high impact peer-reviewed journals is another vital aspect of this job.
Attending around five international conferences each year and facilitating workshops is an important and at the same time pleasurable part of my work. In 2008 I was invited to Hawaii to make a keynote presentation for the US Oceans and Human Health Research Center about low-cost methods for identifying sources of pollution. This job has taken me to many other places including Cape Town, Tokyo, Singapore, San Francisco and I am looking forward to a forthcoming trip to Brazil to deliver a workshop and to Rotorua, New Zealand for a conference. Networking with other international researchers is so important, and research ideas are often developed during the resultant conversations.
I have also given talks to the US Environmental Protection Agency, the UK Health Protection Agency, the UK House of Commons and the UK Environment Agency.
What areas of research are you currently pursuing?
A key part of my research is concerned with low-cost methods for identifying sources of water pollution. I found a strain of the bacterial species, Bacteroides ovatus (GB124) which can operate as a marker for human faecal pollution. I have worked closely with colleagues from the University of Barcelona to develop low-cost tests to look at water contamination which we are hoping will help developing countries to provide safe drinking water.
Another area of my research is identifying other markers of pollution such as "pigs" which happen to be remarkably similar to us genetically, so it can be difficult to identify a unique marker for such sources. It's important that we do this because in areas such as Eastern England and Northwest France there are large populations of pigs, whose waste often ends up in coastal waters used for bathing and shellfish production.
Shellfish are bio-accumulators, and their method of feeding known as filter-feeding means they can concentrate microorganism such as viruses which may pose a risk to human health. Detecting the presence of such microorganisms may therefore help us better understand the risks associated with uncooked or inadequately cooked shellfish.
Complex environmental interactions mean that intensive testing and large sample sizes are necessary in order to draw meaningful conclusions. Long hours of laboratory testing in the UK and overseas are required in order to ensure our methods are robust and transferable. At all times I am working collaboratively with a fantastically supportive team at the University of Brighton (Dr Huw Taylor, Dr Daniel Nnane, Dr Jon Caplin, David Diston, Sarah Purnell, Lakshmi Yaliwal, Diogo Trajano and Silvia Monteiro), as well as overseas colleagues in Spain, Sweden, France, Cyprus, Austria and Hawaii. I could never have achieved what I have done without their help and support.
Do you still do the hands-on laboratory work yourself?
Yes, most certainly, and I am at my happiest whilst conducting laboratory or fieldwork. I also spend a fair amount of time demonstrating laboratory techniques and methods for undergraduate, postgraduate and post doctoral researchers, which I also enjoy.
How much time does administrative work take-up?
I usually spend about 15 hours a week on office work and general administration. I have the usual emails to deal with, as well as reports to write and regular meetings to arrange and facilitate. This is probably the least enjoyable aspect of the job for me, but it is a necessary one!
How many hours do you work and how does this affect your work life balance?
My day typically starts at 8.30 am and ends between 6 pm and 6.30 pm, although during the week I often take work home. However, I always try to keep my weekends free to re-charge my batteries. In my spare time I love getting out on the South Downs to walk, and I also play badminton with colleagues during the lunch-breaks, both of which are excellent stress-busters. Overseas visits often involve weekend working, and we have to attend university open days on two or three Saturdays each year.
Describe the skills and personal qualities needed for this work?
Patience is certainly a virtue in Higher Education! You also need good listening skills, along with sensitivity and flexibility to not only challenge the stronger students, but to support those who might not have grasped everything right away. The ability to work systematically through problems is important, and you need a good understanding of the many issues today's students face. There is great pressure on students, with many trying to juggle the demands of jobs that are anything but part-time with University study.
What do you like about your job?
Supporting students is the most rewarding part of my job. Working through problems together and helping students with their research projects are immensely rewarding. For me, seeing the students that I have supported reach graduation is very satisfying.
I also enjoy the conferences and international travel, with the opportunity to meet people from so many diverse backgrounds.
This job gives me the academic freedom that a role in industry could never give. Water is fundamental to all aspects of life and this dynamic and exciting research field offers the potential to improve the environment and society.
What challenges do you face?
Striking a balance between laboratory, field and class work can be hard work, which must also be fitted around my conferences and other responsibilities.
Academics need to be constantly critical about their own work, which can sometimes be difficult given the inevitable investment of time, energy and money. Developing robust research methods has to be a top priority, and your patience can sometimes be tested as you focus not only on immediate issues, but also on longer-term research goals.
What advice have you got for potential PhD students?
Take everything that comes your way, and say yes to everything, as this will help you to develop your role within the university. You can then get out of the areas that interest you least.
What do you know now that you wish you had known before you started?
A PhD is not the same as a Nobel Prize! Whilst it may be the biggest thing in your life at the time, remember it is just the start of your research career. A large part of research is that if it is good other people will inevitably help you take it further. You also need to choose the right people to be a part of your team, as you will not achieve as much in isolation.
What about your future prospects?
I would love to further expand our research unit, and I have lots of ideas on how to bring this about. I am ambitious, but it is not all about how much money I could earn (I would be in industry if that were the case). For me, the ultimate rewards lie in being able to see research which I helped develop being implemented by others around the world to improve the health of humans and the environment.
If you weren't in this job what do you think you would be doing?
Well, I am fairly sure that I wouldn't be working as an engineer! Architecture always interested me, but most likely I would be working for an organisation such as the Environment Agency, which would not tie me to a desk!
Biography
Dr James Ebdon left school at 16 after his GCSEs and attended his local college to follow a BTEC National Diploma in Mechanical Engineering. After completing his HND in Aeronautical Engineering he decided that this discipline was not for him and embarked on a BEng (Hons) degree in Environmental Engineering at the University of Brighton, proceeding directly to the second year.
After this James went to Brunel University to complete an MSc course in Environmental Change whilst working as a laboratory technician in a nearby high school on a part-time basis. He then moved to the University of Brighton to take up his first post there as a research technician in the Environment and Public Health Research Unit where he has worked ever since 2000. James then moved on to become a Research Assistant, and was offered the opportunity to embark on a PhD at the same time. He successfully completed his PhD in 2006 and following a very strong publication record was appointed initially as a Research Officer and then Research Fellow, before securing his present lecturing role in 2008. James has also recently completed the Postgraduate Certificate in Learning and Teaching in Higher Education.
James is a winner of the University of Brighton's Excellence in Facilitating and Empowering Learning Award, (2009) which received nominations from across the university.
Sarah Marten,Environment Jobs
---