Hazem Abdelnabby is Associate Professor of Benha University, Egypt. He awarded his PhD in life sciences from The Technical University-Braunschweig, Germany in 2006 and worked in the USDA-Nematology Lab, Beltsville, USA during 2008. He has a patent and more than 10 publications in SCI international journals. He has almost 20 years of experience in academic teaching and research.
Why did you choose to work in China?
Hazem Abdelnabby
Nowadays, China is one of the major players in world's economy. Its extraordinary growth – in both the science and economy sectors – attracted my attention to explore opportunities within this nation. Chinese scientists and their publications have noticeable share in scientific journals with international reputation. Agriculture is my field of research, to which China gives a great concern and considers food security as a priority. It was the first time I saw an Agricultural University with several colleges included. Normally, it is a single college. It was interesting for me to work in China. Being in China allowed me to conduct my research perfectly and allowed my family to visit new places and create new friendships.
How did you prepare for the move?
As an Associate Professor in Egypt, it was important for me to get an acceptance from my university to work abroad. This takes about one month of procedures until I received the acceptance from the university council. At the same time I was in contact with some colleagues in China for their advice and to get more information about the Chinese culture and the city that I am going to live in. In addition, searching the internet about suitable transportation, living and conducting research in China was very helpful.
How did the visa process go?
The visa process went very smoothly. My Chinese University "Huazhong Agricultural University (HZAU)" sent me by express mail all the required paperwork including the "Visa application and contract" in both English and Chinese. I simply completed another application at the Chinese embassy in Cairo and applied the relevant material. Two days later, I received my passport with three months visa. Once I arrived at HZAU, the international office and the human resources department prepared all paperwork needed to establish permanent residence. After 20 days, I received my new residence visa for the whole period of my contract.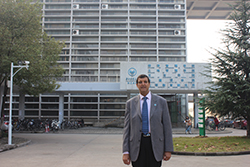 Theoritical Colleges Huazhong Agricultural University, China
What was it like in the first few days/weeks?
In the first few days I strived to communicate with Chinese people. Most people in the street cannot speak English even if they can understand what you mean. The only positive remark I noticed at that time was that the Chinese are a very kind and helpful people but they are still wary of and shy away from foreigners. A Chinese colleague advised me to speak slow and clear English and to choose the younger generation to communicate effectively. He advised me also to keep important Chinese sentences "my address, information about myself and my place of work" on my mobile phone. It was and still is very helpful advice, especially when I take a Taxi or go outside the university campus. Afterwards, I got the experience to explain what I need using slow-motion English mixed with body language. Despite my lack of Chinese, I can communicate with Chinese and spend a pretty good time in China.
What sort of work are you engaged in?
I am employed in a research role at college of Plant Science and Technology. I am also guiding some of the MSc and PhD students in their research work. The university supports my research as well as grants for travelling to attend scientific conferences and training workshops.
How many hours do you work?
I never counted my working hours, but I generally spend around 20-30 hours per week doing research. I spend the rest of the time reading scientific papers, designing experiments, analysing and writing the results.
How did you find the Higher Education sector in China?
The higher education sector in China is huge. In one city you can find around 10 universities with tens of thousands students in each. That is logical due to the high population. The most interesting thing is that there is a whole university for each specialist (for example, University of Agriculture, University of social sciences….etc.). Many of the Chinese universities are competitive and ranked internationally. The areas, facilities and services are excellent, while the teaching and research varies from one university to another. In the high ranked universities, distinguished professors are invited to teach. That helps so much in improving the teaching process, Chinese professors and student's quality of learning. Moreover, there are lots of grants in each university for foreign students to study and research in China. For example, Huazhong Agricultural University has accepted this year more than 100 masters and PhD foreign students to conduct their research in China. These grants pave the way for cultural exchange and strengthen contacts between Chinese students and foreign students worldwide. Generally, the Chinese universities are growing constantly and are expected to jump steadily in a short time into the top universities. It is clear that the Chinese government gives priority to the investment in education sector to provide the students with ideal atmosphere to be high qualified in their field.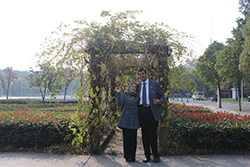 Grounds, Huazhong Agricultural University, China
How does Chinese university teaching differ from other countries you have worked in?
There is no doubt that the Chinese students are hardworking and diligent. However, for cultural reasons, they like to follow one way and do not have tendency to venture or try new ideas. So, it is important for the teacher to inculcate the spirit of adventure and creation in them. Once the teacher encourages them and opens the way for their imagination, he will get more than his expectation. On the whole, the western students are more openly creative but less studious than the Chinese students.
What about your work with the students?
As I am working in a research lab, I deal more with postgraduate students. Generally, the Chinese students are polite and cooperative. The most important thing is that they are so hard-working. Normally, the lab is busy day and night. They organize the time together to avoid any confliction. They are working as a team and tend to help each other. The English skills and pronunciation of Chinese students are improving, largely due to better communications with foreign lab mates and teachers in recent years. They respect their professors and most of them consider their teacher as a godfather.
What is the social life like?
China is a lovely place and Chinese people are pretty amazing in my opinion, their relations within families are usually so strong. Since they have such a huge population they really know how to live peacefully in groups. They are working, playing, dancing, doing sports etc… in groups. But, they never do this through the internet because the social media network is blocked. I have visited many countries in Europe, the Middle East and USA, and I have never seen this type of grouping in everyday life. Social activities are fine in the big cities but normally the hotels, transportation, restaurants, malls, gardens, etc. are all busy. For example, in the popular restaurants, you should make a reservation first and upon arrival you have to wait for your turn about one hour. In smaller cities, there are a growing number of services and parks. However the downside is that you always feel like a stranger. Many people in small cities have never seen foreigners in their life, so they get amazed when they see a foreigner in their small city. For example, if you are sightseeing in one of those cities suddenly you find yourself becoming the most interesting tourist attraction of the place☺.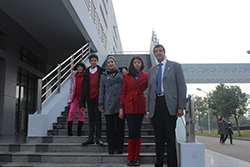 University Theatre, Huazhong Agricultural University, China
What have you enjoyed most about your time in China?
In China, you can find in most cities attractive sightseeing places and gardens. Shopping malls are attractive and big. The quality of the Chinese products is really competitive to the international brands and significantly cheaper. I noticed that the quality of the Chinese brands inside china is higher than abroad. No need to have a car if you are making a tour in any Chinese city as taxis and public transports are not expensive. If you are living or working in china you can buy an electric motorbike. It is quite practical and convenient with few problems. It is also important since the transportation is normally so busy, plus you don't need a driving licence to operate a motorbike.
Do/did you face any particular challenges?
Language is the major challenge. I would advise anyone coming to China to get some language courses that help them at least to express themselves and ask people for help. You should not think that one day you may speak fluent Chinese. It is really not that easy to do. The number of people who can speak English is growing but many of them are too shy to speak or communicate in English with you.
How has working overseas helped your career?
Working in Europe, USA and China allowed me to deal with totally different cultures and academic schools. Each visit was building a part of my knowledge and scientific personality. Sure, this was reflected in my career and collaborations worldwide. At present, I have publications with Egyptian, German, US and Chinese professors. I believe that the key to success for any academic or researcher depends on relations with other colleagues in different countries and scientific institutions. This scientific network allows for exchange of information and ideas which helps directly to improve the academic career.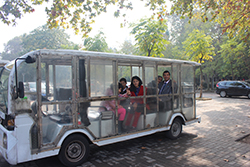 University Shuttle Bus, Huazhong Agricultural University, China
What was the best moment?
It is hard to evaluate just one moment to be the best in the person's life. Generally, I have many best moments in my life but the best of the best is my marriage day 18.08.1999, then my PhD award from Germany in September 2006. In China, the best moment was when I knew accidently that Zhihui Yang -my Chinese lab mate during my PhD study in Germany- is currently working as a professor in the Central South University which is not far from mine. I never expect seeing her again after 10 years. I invited her with her husband to visit us and we recall the wonderful memories we've shared together in Germany.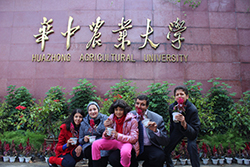 Main Gate, Huazhong Agricultural University, China
Have you got any advice for other academics planning to work in China?
The working atmosphere in China is fairly easy-going. I would advise young academics to work in China as researchers where they can access good training on lab instruments and equipment and improve their handling skills in laboratories. It is ideal for learning the fundamentals and skills in lab. In Chinese laboratories you will find the support and help from the professors and lab mates. It is better to learn some Chinese.
As for a teaching role, it is preferable to be a professor. The atmosphere is ideal for any teacher (well-equipped theatre, polite and diligent students, etc.), but the salaries are varied from one university to another and not so attractive. Moreover, the life in China is not as cheap as some people imagine. It could be that short-term contracts or international programs are the best choice.

Hazem Abdelnabby,Academic, Research & Teaching
---