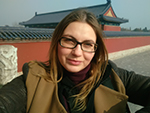 Natalia
Natalia Pawlowska is currently a researcher at the Fada Institute of Forensic Medicine and Science, which is a part of the China University of Political Science and Law (CUPL) located in Beijing, China. Prior to coming to China, she attended the University of Toronto and completed her HBSc. in chemistry and forensic science. In 2011 she joined Michael Thompson's biosensors research group at U of T where she obtained her MSc., specializing in analytical chemistry. Upon graduating in 2014 she was invited to be a visiting scholar to perform research in the area of forensic toxicology. Presently, she is developing alternative methods of drug (cocaine) and explosives (TNT) detection using surface plasmon resonance (SPR)- based biosensors.
Why did you choose to work in China?
Opportunity. Unlike the UK, U.S., Canada's forensic science programs are still being developed with one of the few programs being offered at the University of Toronto (Mississauga campus). There is a much smaller community of forensic scientists and less than a handful of government-operated centres/laboratories handling forensic evidence and casework across the country. During my graduate years at U of T, I had made a contact with a former visiting scholar, who incidentally, was the head of the forensic toxicology department at Fada Institute, I inquired about any possible openings. Not only was this an excellent professional opportunity but it was also an invitation to experience a new country, new culture and a new lifestyle. I wanted to gain practical experience in my field of interest but also to retain momentum after graduation.
How did you prepare for the move?
After settling the paperwork for the VISA application and working on some preliminary research, I moved to Beijing, with a pre-arranged living space in the dormitories of CUPL. In Canada, I took precautions and went to a travel clinic to receive any vaccinations which might be necessary and purchased travel insurance. Though healthcare is not expensive in the hospitals, international hospitals/wards can charge 20-50 fold more than the regular Chinese sectors. I did not do much research about Beijing since it was not a factor for my moving there. Personally, not having any preconceived notions or expectations of a place or people also allows for a more honest integration and creates a more interesting learning experience (although daunting at times). I did not study Mandarin formally prior to my move which I found to be my greatest mistake, many people whom you communicate with on daily basis do not speak English, or it is rather difficult to understand. However, practicing phrases and vocabulary pertaining to daily life, especially in the first few hours upon landing (e.g. communicating with the taxi driver regarding address, ordering food, understanding money), were necessary.
What was it like in the first few days/weeks?
The first week was quite difficult and trying mainly due to living conditions. Living in a dormitory, I was sharing a washing station, toilets (squatters) as well as showers with the student population. Though I realize now that living conditions outside the university dormitories are equally as harsh, at the time I felt that I would be changing my address in the near future. The cost of living, or rather, rent for a room in a Beijing apartment is incredibly high and there are several things you must compromise upon moving here. Other than living conditions, my first week and the subsequent weeks were spent on travel and exploring the neighbourhood around my home as well as the workplace. Beijing is quite easy to get around with an intricate system of subway lines which can take you practically anywhere, thus, commuting to and from places is generally hassle-free, excluding rush hour of course on the downtown lines. There is also always something to eat and one cannot go hungry, whether it's food on the street or small, room sized restaurants. If you're really struggling with communication, pick a common dish you like and order it everywhere, e.g. dumplings or jiao zi or prepare to be surprised. Generally, staff are nice and if you can learn to laugh at yourself due to miscommunication and confusion, you will be alright.
What was the social life like?
Once I made a few friends or some colleagues decided to take me out – things became much easier and much more familiar. The Chinese people I've met were always very happy to show me an aspect of their culture and had a lesson about the origin of something or an explanation for why things are done in this particular way. Whether it was a dinner at a restaurant or a walk in one of Beijing's many parks, it was always a wonderful learning experience.
A wide variety of restaurants, bars, and club open every night of the week are frequented by the younger and older, both locals and expats. There are many spots boasting live music and beautiful night scenery. If bored, one can visit several websites, e.g. thebeijinger.com and well as cityweekend.com to search around for events depending on your preferences. There's an abundance of café's and historic sites to go visit during your down time if the nightlife is not for you. However, most people in China share a shameless passion for KTV (karaoke) so please, prepare your vocal chords for this rite of passage.
What sort of work were you engaged in? Were there any difficulties with integrating into the workplace?
I designed several research projects and performed experiments along with a small research team (mainly students). I had both laboratory work as well as office work such as preparing publications, attending meetings, etc… Other employees and scientists were always courteous, kind, and very inviting. As a foreigner, there is much attention focused on you, so generally speaking, you will not be forgotten. The most important thing worth mentioning is communication in the workplace. Though there were English speakers, there was occasionally a failure in communication and words were lost in translation. In my work however, there exist an abundance of visual aids such as diagrams, calculations, chemical formulas, data and software. Although oral communication is important, the type of work you are involved will determine the challenges you may face. One thing which was difficult was ordering equipment, chemicals, and other reagents which are available in Canada and US. Imported goods are highly taxed in China and delivery is expensive. Not knowing the language, it is difficult to even search on the internet or order things online and you find yourself heavily dependent on others for even the simplest tasks.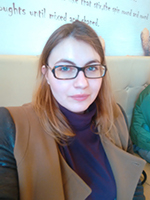 Natalia
How do you hope the experience of working in China will affect your work back in the Canada?
I think that this experience in China will definitely improve my chances of working in forensic science in Canada. Integration into a different society and culture from one's own allows a person to be more flexible and adaptable to prospective work environments and there is opportunity to improve one-self on an interpersonal and intellectual level. As a young professional entering the work force, I lacked confidence in my professional skills and emphasized my academic experience and knowledge. This experience, however, has provided me with some re-assurance about what I want to pursue in life and to evaluate the contributions I can make to my future employer.
How has working here changed you?
I have learned a lot about China's culture and about my own after having left Canada. Coming here has definitely provided me with a different life-perspective but more importantly, I have become familiar with the scientific research industry. I would recommend applying for a 1 or 2 year term with a well-established institution or company providing that communication is clear during the arrangements.
Eugene Clark,Academic, Research & Teaching,Biological Sciences Jobs
---