by Sarah Marten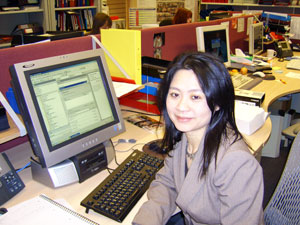 Michelle Kavan – Deputy Director (Placements)
Michelle Kavan manages the placement team in the Placement and Careers Centre at Brunel University. Michelle's enthusiastic and energetic approach helped the university to win the "Best University Placement 2010" by Rate my Placement. Each year Michelle's team of placement officers and assistants place around 800 students in a range of interesting companies and organisations. Michelle recently talked to Sarah Marten about her diverse role.
What does your job involve?
Many of the courses at Brunel University are sandwich degrees which involve a year in industry between the second and third year. It is my job to manage the whole process of finding suitable placements and actually placing our students. I manage the work of fourteen staff, seven placement officers and seven placement assistants. I have particular responsibility for the Business School here at Brunel, although I am responsible for managing the process across the whole university.
The placements are competitive in that our students are competing with other universities – it is really quite similar to the job application process. My first job is to actually find the placements, which I do in a number of ways including telephone contact with HR departments and attending careers days and events. Many firms contact us directly, having been very pleased with Brunel students in previous years. Finding suitable placements is a continuous process throughout the year, as companies tend to advertise vacancies at different times.
Marketing the placements to our students is also an important part of my job, and our placement assistants use our intranet to advertise the opportunities.
How do you help students to apply for their placement?
During the autumn term of the second year I deliver a series of fourteen lectures to large groups of around 200 students to explain the whole application process. We cover CV preparation, application forms, assessment centres and interview techniques, and where possible I invite employers such as IBM to help deliver these sessions. Along with our placement advisors I offer one-to-one support for students before their placements, with 15 minute quick queries or longer 30 minute guidance interviews. Two afternoons each week I offer a two-hour drop-in session for students.
Do you monitor the students whilst they are on placement?
No, this is the responsibility of the academic staff who visit their students once or twice a year during their industrial placements. Brunel University have recently introduced a placement module whereby students complete a report during the placement, which is assessed and leads to credits towards their degrees.
Members of my team send an evaluation report at the end of each placement to the employers, who rate the students' performance against a number of criteria, including time management, communication skills, initiative, IT ability and so on. The vast majority of our students receive excellent ratings during their placements, thereby enhancing employability and sometimes leading to future job offers.
What else do you do?
This job involves close liaison with other academics within the University, particularly with the head of the Business School. I sit on the School Board and the MSc Corporate Brand Advisory Board, where my knowledge of employers and industry can be used to develop the curriculum.
I also sit on the Committee of Knowledge Transfer and Enterprise of Brunel Business School, where as a University we look at ways of developing our work with employers in a variety of ways, including encouraging industry involvement with research clubs or developing sponsorship opportunities and short-term work experience.
Brunel Business School has recently introduced an innovative MSc in Corporate Brand Management and I am a member of an advisory board of eight employers and four University staff which was set up to develop this flagship initiative. This group helps to encourage a symbiotic relationship between employers and the University, and ensures that the course meets the needs of employers by developing appropriate and relevant content.
Once a term I go to Central London to chair the AGCAS Placement and Work-Based Learning Task Group, and in addition to this I regularly attend lots of other meetings, both within the University and beyond.
Visiting employers is also a vital part of my job, and these take place throughout the year, although I try to avoid booking these during the autumn term when I am always busy advising students.
What does the management aspect of your job involve?
Regular meetings with the whole placement team take place once a month, where we plan our work and ensure that we are on-course to meet targets set by the university. This is vital, since the number of placements affect the whole-university targets for admissions. Monitoring staff performance and undertaking appraisals are an important part of my job.
When necessary I deputise for the Head of the Careers Service, which can involve meetings both within the University and outside, as well as liaising with professional bodies. Regular report-writing is another aspect of my job, including reports for the Business School and policy documents for our department.
Why did you choose this work?
It is more of a matter of the job choosing me. I never set out to choose this career, but have ended up in a field I really enjoy. Working in a university is great as you are part of a learning community and I like the fact that we are not profit-driven.
What are your working hours?
My hours are Monday-Friday from 9am to 5pm, although I regularly work at home, mostly answering emails from students during our busy periods. This is my choice, but it means that I can keep on top of the work. I might spend an hour or two working most evenings, plus a couple of hours at weekends. We also have occasional evening meetings, but only once every few months.
Which of your qualifications have you found most useful to you in your work?
My Postgraduate Diploma in Careers Guidance has probably been the most relevant to me in this work. The counselling skills the course helped me to develop have been invaluable, and I am interested in how people choose their careers. I also have an MSc in Marketing, which has also helped me in this role, for example with questionnaire design and focus group organisation.
What skills and personal qualities are important?
Excellent interpersonal skills are important in my job as you need to communicate well with employers and students. You need to be able to influence people, and to negotiate effectively with colleagues and managers. An outgoing personality is a great advantage, and the ability to be assertive when the need arises. Most important though are empathy with students and good listening skills.
What do you enjoy about your job?
Working with students is really rewarding, and they are always so grateful for anything you do to help. In the same way employers are appreciative of our efforts, as we are providing high quality students for their placements. The job is busy and we are working to very tight deadlines, but I thrive under these conditions and love the adrenalin rush! Our management team is small, friendly and supportive and we enjoy socialising outside working hours.
Is there anything you dislike?
Today's work environment demands dynamic and flexible people but you can occasionally encounter reluctance to accept new ideas. I am a very positive person and I work hard to encourage and motivate both students and the team as well as working creatively with employers. . Universities are places of ideas and ongoing change, so I see this as very important.
Is there any on-the-job training?
No-one trained me to be a manager and I would say that I picked this up as I went along. I have always learnt from other managers, and good managers set an example to others. This is certainly so for our Director of Placement and Careers Centre, Jane Standley.
Brunel University offers an excellent range of in-house training courses, and I have undertaken several including staff development, IT skills, time management and managing conflict.
What prospects are there and what ambitions do you have?
Potentially I could move on to become a placement or careers manager in another university, although I love my job and have no plans to move on at present! My job would also provide the ideal background for a move into graduate recruitment or private sector recruitment consultancy.
How does this job fit into your work-life balance?
This job can be very demanding, and I also have the needs of my nine year-old son to consider. To be successful as a working parent extra support is important, and I am fortunate in that I have a fantastic childminder who I can rely on at all times.
What do you know now that you did not know at the start of your career?
Universities are going through a period of significant change, and some people find this adjustment difficult. You need to be open and consultative about how to implement change, and able to communicate the right messages to your team. The student group is also widening, and there are many more international students, all of which contribute to different expectations of the careers and placement services in universities.
What advice have you got for people interested in this career?
Aim to have a master's qualification – you will be working alongside highly qualified academics and a high level of qualification will lend you credibility. The postgraduate diploma in careers guidance is a really useful qualification for this role, as you learn interview techniques and labour market analysis. It is also really important to network with as many people as possible both in industry and within the university. Get yourself known by attending as many conferences as you can.
If you weren't in this job what do you think you would be doing?
I love cooking for friends and trying out new recipes so I would love to be a celebrity chef. I sometimes watch Saturday Kitchen and the idea of cooking for television really appeals and I think I could be successful!
Biography
Michelle Kavan attended Manchester Polytechnic after leaving school and completed a BA Hons degree in Information Management. She then attended UMIST to continue her studies to master's level and obtained an MSc in Marketing. Michelle then worked as a Business Advisor with the Training and Enterprise Council in Manchester for four years. She then became the University of Southampton's Work Experience Manager where she stayed for five years. Michelle then returned to University, to study the Postgraduate Diploma in Careers Guidance at the University of Reading, before moving to her current post five years ago.
What do you think about this article? Email your thoughts and feedback to: careers@jobs.ac.uk
Sarah Marten,Media & Communications Jobs
---