by Sarah Marten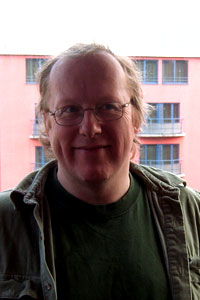 Professor Simon McGrath
Professor Simon McGrath worked in Pretoria, South Africa for the South African Human Sciences Research Council, which is a government research agency. His work as Director of their Human Resources Development Research Programme combined managerial and research responsibilities. Simon was also Visiting Professor at the University of Witwatersrand. He is an international expert in the field of vocational education and training systems in South Africa and now works at The University of Nottingham as Professor in International Education and Development in the Centre for Research in Higher, Adult and Vocational Education. Simon recently talked to Sarah Marten about his experience of working in South Africa.
Why did you choose to work in South Africa?
When I was growing up in Merseyside my Grandmother lived with the family, and her commitment to raising money for worldwide church missions inspired me. I became interested in developing countries and thought that one day I might like to work overseas. I subsequently taught in Zimbabwe for three years.
During my PhD I spent eight months undertaking research in Johannesburg, which I enjoyed. I also spent six years working as a research fellow at the University of Edinburgh, which included research into education and training in Ghana, Kenya and South Africa. The job with the South African Human Science Research Council seemed to be a good match for my previous experience, and after being head-hunted, I accepted. In addition, after working as a research fellow for six years, there did not seem to be any suitable positions for me in the UK. As my son was only three years old at this stage, it seemed a good time to work overseas.
How did you prepare for the move?
We decided to rent out our property in the UK, rather than sell it, since it can be difficult to predict what might happen in the housing market. In some African countries there is a limit to the amount of money you can take out once you leave, so this may also be an important consideration.
Packing up all your furniture and belongings is a huge task, and it can take between six and eight weeks for everything to arrive overseas.
How did the visa process go?
Applying to obtain a work visa for South Africa was a nightmare at the time with my paperwork having been lost and it being difficult to find anyone at the South African High Commission who was willing to assist. Finally, I used contacts to get the mobile phone number of the Deputy High Commissioner, who then helped to get matters sorted out. Even then, I had to enter South Africa on a tourist visa and then get this converted to a five year work permit.
What about finding somewhere to live?
Finding unfurnished rented accommodation was relatively straightforward, and your money goes much further than it would in the UK. Most professionals live in large modern houses with electric gates and high fences, but we chose an older property in a quiet part of Pretoria, close to work. Choosing the right suburb is essential, as the level of crime in South Africa is amongst the highest in the world.
Tenants in South Africa have different legal responsibilities to those in the UK. Electricity and gas certificates must be provided by the landlord in the UK, whereas in South Africa these are the tenants' responsibility, and the costs can run to several hundred pounds. Essentials such as opening a back account and connecting a landline usually take much longer than they would in the UK.
What was it like in the first few days/weeks?
The fact that my wife and I had previously spent some time in South Africa made the process of settling in very much easier. At the time my wife was writing up her own PhD, and this was something she could easily continue in a different country. Initially there is so much to do, as I not only had to settle into a new job, but we also had to find suitable accommodation and a pre-school for our three-year-old son. We chose an international school, which was one of our biggest expenses whilst in Pretoria.
The Human Sciences Research Council organised an induction programme for me, and the IT and administration was handled in a very professional way, which eased the transition to my new job. The fact that I also already knew some of the staff through my academic networks also helped. Existing contacts with government and trade union officials as well as national business leaders also meant I started to feel at home quite soon.
What was the social life like?
South African society is still quite segregated – the only black children at our son's school came from embassy families. The suburb we lived in was still predominantly Afrikaans-speaking and getting to know neighbours was very difficult, partly because people live in big houses protected by walls and electronic gates. At work I was fortunate to be part of a small multiracial team, making it easy for me to make new friends.
Getting to know people in the local community did take time, and it can be hard to make new friends outside work. Joining local groups can make all the difference, but I was fortunate in that I already knew people in South Africa. We enjoyed the local art cinema, and made the most of bird watching and trips to national parks.
What sort of work were you engaged in?
My work involved leading research on vocational education and training and skills development in South Africa, which is broadly the equivalent of the FE sector in the UK. I had to tender research contracts and manage a team of eight staff. The work involved close liaison with government departments, particularly with respect to skills, education and labour markets to develop policy informed by the latest research and trends. I was also involved in supervising PhD students at the University of Witwatersrand.
Before the democratic elections of 1994 South African policies were quite inward- looking, and society was hugely inequitable with a massively disproportionate number of white students in the universities. Certain sectors including banking and IT were strong, whilst in areas such as motor manufacture the cars were of a lower quality than elsewhere. This had clear implications for education and training, and part of my role involved developing and evaluating policies to transform colleges respond to these challenges. It was important to ensure that employees had the same level of training as their counterparts in other countries, such as Germany for motor manufacturing. Access to employment and training in South Africa needed to be much more equitable.
At every stage my role was to look at evidence and research from a comparative viewpoint, and not necessarily embracing UK models of education and training. During my time at the Human Sciences Research Council we significantly improved the research base where this had been limited in the past. The findings have been quite influential and have been cited by government ministers for policy statements.
Another important part of my work was managing and developing my team, as well as developing the research programme.
How did your academic discipline in South Africa differ from that in the UK?
Our research at the Human Sciences Research Council was interdisciplinary. To some extent this was part of the nature of the organisation I was working for, which tended to move around the edges of education and economics. The university departments were still much more disciplinary-focussed. Britain went through educational reforms before South Africa, and generally the HE sector is less performance-focussed that the UK.
What were the South African students like?
I encountered many people, often from a black background, who had struggled through the education system and shown real ability, but who had also lacked exposure to international debate. Their education had not really encouraged critical thinking, even though they often came from very varied backgrounds.
The students were generally older than those in the UK, as it had taken them longer to progress through the education system. Some had been involved in student activism and resistance under apartheid, and many had been arrested, and these life experiences had shaped them and given them insights that were very important for their work.
What were your working hours like?
I worked long hours whilst in South Africa, usually between 60 and 70 hours a week, although I tried to keep weekends free to spend with the family. I usually started at around 6 am and finished at 4 pm, and then worked for a couple more hours in the evening at home. However, I was on duty most of the time, and even had to take calls from ministerial advisors and senior civil servants whilst on holiday. I had been used to working these hours in the UK, and the work cultures were quite similar, so I adapted very easily.
How has your experience in South Africa affected your work back in the UK?
The work I undertook in South Africa has been central to my new role back in the UK. When I left for South Africa I was working as a contract researcher, which is the lowest of the low. Within 18 months of returning to the UK I was Chair in International Education and Development at The University of Nottingham. My career has really taken off in a way which would never have happened had I not worked in South Africa.
What made you decide to return to the UK?
We came back to the UK for family reasons, since our parents were getting older and we also needed to consider our son's education. I heard about the job at The University of Nottingham via word of mouth, and as there was less than a year to run on my contract in South Africa, we decided to return once the job came up.
What did you enjoy most about your work in South Africa?
Being engaged in policy-making was both intellectually interesting and challenging. I was given the opportunity to influence government policy and this was very rewarding and stimulating. As a family we were able to visit many beautiful places, and to experience stunning scenery and wonderful animals in their natural environment.
What was the worst moment?
Clearly there is grinding poverty in South Africa, although our previous visit had prepared us for that. The society is fractured and this can be difficult to accept and understand. The work was sometimes frustrating due to cultural differences; I had been used to working at a faster pace than some of my colleagues.
Have you got any advice for other academics planning to work overseas?
There are real benefits in working overseas. However, logistically working abroad is a huge undertaking. You also need to consider the costs and benefits to your family. My son loved it in South Africa, but at times my wife found it quite difficult, even though we had visited before. She was not allowed to work, and this meant she felt quite isolated at times.
Biography
Professor Simon McGrath originally comes from a poor urban area, where going to Oxford University was seen as a great achievement. He was the first member of his immediate family to do A levels, and the only child in his year at primary school to pass the 11+ exam.
Simon's first degree was in History and Economics which he read at the University of Oxford. After graduating Simon completed a PGCE in Secondary History, and then became Head of Economics in a comprehensive school near Oxford. However, he had always planned to work overseas, and moved to Zimbabwe to a rural secondary school, where he later became Deputy Headteacher.
Simon subsequently returned to the UK to undertake his master's degree in African Studies at the University of Edinburgh. He was then invited to stay on at Edinburgh for a PhD (funded by a research studentship), where he conducted research into South African education policy. During the final year of his PhD Simon submitted a proposal, along with a senior colleague, to the then Overseas Development Agency (now DFID) to undertake further research into vocational education and training, receiving what was then the biggest ever award for education, £250,000.
After completing his PhD, Simon became a full-time member of staff at Edinburgh, working as a research fellow and developed doctorial research training in African Studies.
Simon is also Editor-in-Chief of the International Journal of Educational Development and is Chair of the Skills Working Group of the UK National Commission for UNESCO. He has a wide portfolio of published work, notably in the field of vocational education and training systems in Africa, the skills development processes of micro and small enterprises, and the role of aid in shaping education. Simon also has an advisory role within government departments, mostly in South Africa, and works with many other international agencies.
---