by Sarah Marten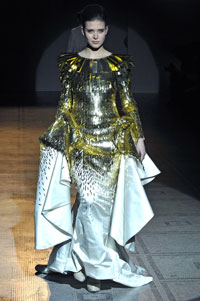 Manjit Deu, Student of London College of Fashion
Kim Davidson works as a press assistant in the PR and Events Department at London College of Fashion, which is part of the University of the Arts London. Kim joined the University in November, having gained varied experience in editorial and marketing after graduating in Multi Media Journalism less than three years ago. Kim's energy and enthusiasm clearly make her very well-suited for this exciting job which brings her into contact with industry professionals and celebrities as well as the world's top fashion designers.
What does your job involve?
I am the first point of contact for press enquiries, along with the Senior Press Officer for London College of Fashion. We receive a great deal of requests from various media including national TV and radio who often want an authoritative viewpoint on fashion industry news and trends. I deal with a wide range of other media including magazines from 'Harpers Bazaar' to 'Hello', a cross-section of newspapers and various fashion websites and blogs. Sometimes they want quotes, or to arrange an interview with students that they might have seen at our exhibitions.
As well as this, I am also jointly responsible for promoting our exciting events through the press and organising various media projects. The ultimate aim of my job is to promote the work of the students and the University as a whole. As there are only two of us in the press office, there is lots of administration involved, including archiving our press cuttings, both manually and online.
How are you involved in promoting University events?
Promoting our events through press contacts is one of the most important aspects of my work. For example, every year we promote the MA Fashion, Design and Technology students through a catwalk show to promote their collections. We have progressively managed to gain more and more industry exposure for our students, and our calibre of attendees reflects the quality of their work. This year we had Harold Tillman, Chairman of Jaeger and designer Lulu Guinness, as well as Jo Wood and Nicola Roberts from Girls Aloud, who all help to publicise the high quality work of our students to the media.
There are various other courses which we continually promote through theatre productions and exhibitions, for example. All these events help to ensure that as many influential people as possible are exposed to the talented work of our graduate students, thereby helping to get their careers off to a good start.
What do the media projects involve?
London College of Fashion has recently been involved in an edition of the ITV 'Tonight' programme on the subject of sustainable fashion. I worked closely with our Director of Sustainable Fashion and ITV, finding appropriate settings for interviews and supervising film crews. Our ultimate goal is to ensure that London College of Fashion is reflected in a true, honest and positive light.
Are there any other aspects of your job?
Because I have a background in copywriting I am also involved in proof-reading programmes for our shows and writing copy for the web, e-newsletters and press releases. An interesting part of the work also involves using InDesign and Photoshop to create posters and other documents. I am also learning how to use the University's Content Management System so that I can upload work onto our website.
Why did you choose this work?
When I was younger I always wanted to be a Blue Peter presenter! Working in or with the media really appealed to me, which is why chose my particular degree. I also enjoy many aspects of fashion, which makes this an ideal job for me.
What are the hours/working conditions?
The normal hours are Monday to Friday, working from 9am to 5pm. However, flexibility is important so that you can attend evening events. The working atmosphere at London College of Fashion is great, and working in a small team means you get to know everyone really well. The Press Assistant and Senior Press Officer work in the same office alongside the two staff from the Events department, and we regularly see each other outside of work. The University of the Arts is a very flexible and progressive employer, where equality and diversity are also taken seriously.
How did you get into this type of work, and which of your qualifications were the most useful?
My degree in Multi Media Journalism from Bournemouth University has been invaluable to me as it was so practical, as well as including all the NCTJ (National Council for the Training of Journalists) qualifications. I had thought about taking media studies, but I am so glad I decided on the journalism course instead. There were so many practical modules to the degree, and all the students gained hands-on experience across TV, radio, print and online mediums. Having this degree means you can go straight into industry and put your skills to work, without having to undergo extensive training. The shorthand I learnt has been put to good use as well!
What skills and personal qualities are important?
You need to be very personable, as this job involves lots of contact with other people, both inside and outside the University. You need to be equally happy talking to people on the phone as you are meeting them face-to-face.
The ability to work to tight deadlines under pressure is also important, along with a flexible approach as organising events sometimes involves responding to last-minute changes. You also need to be able to multi-task and to have good organisational skills to work within a fast-paced environment.
Excellent written communication skills are paramount, along with a belief in yourself and your work. For me, working as a freelancer helped to give me this confidence.
What do you enjoy about your job?
Working in a team alongside people I like is so important. As a freelancer I have also worked alone at home, which I did not enjoy as much. This job is so exciting and I enjoy all aspects of the work, in particular the desktop publishing and copywriting.
Any dislikes?
The hours can be long but that is all part of the job, and most of the events are also good fun. There is some administrative work, which is not always as enjoyable as other aspects of the work, but has to be done!
Is there any on-the-job training
The University of the Arts London offers excellent training, and I have recently completed training in the use of spreadsheets, content management systems and a refresher course for InDesign. Employees of the University also receive reduced fees for courses, including the wide range of short courses available at London College of Fashion.
What prospects are there and what ambitions do you have?
The University of the Arts London is huge and there are lots of prospects for promotion. For me, working as a Press Officer or Senior Press Officer would appeal. Eventually I may move into sports journalism, although for now, I love working here!
How does this job fit into your work-life balance?
The flexible working hours allow me plenty of time to fit in other activities and interests. For me, sport is important, and I love surfing, tennis and netball and I also go to the gym and swim regularly.
What advice have you got for anyone interested in your career?
This job is hard work, but at the same time you will have plenty of fun. It is important to build up your portfolio, and freelance work has worked for me as it has given me lots of variety and experience. You need to be adaptable and flexible to succeed.
If you weren't in this job what do you think you would be doing?
I would probably be working for a sports agency, doing freelance editorial work.
Biography
After A levels in English Language, Performing Arts and Music, (with AS level French), Kim Davidson spent a gap year travelling. She then attended Bournemouth University and graduated with an upper second class degree in Multi Media Journalism. After her degree Kim planned to go to New Zealand to start her media career there. However plans were cancelled when she successfully applied to be part of the Channel 4 programme 'Shipwrecked'. Spending six weeks being filmed on a desert island was a valuable experience, and is certainly an unusual ice-breaker at job interviews. Kim went on to gain varied experience in copywriting, editing and marketing, writing for a range of websites and magazines, mostly in the fields of sport and travel, often working as a freelancer.
What do you think about this article? Email your thoughts and feedback to: careers@jobs.ac.uk
Sarah Marten,Professional, Managerial & Support Services Jobs,Media & Communications Jobs
---