by Sarah Marten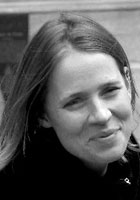 Juliane Degner
Juliane Degner works at the University of Amsterdam as an Assistant Professor in the Department of Social Psychology. Juliane is a German national, having previously worked in universities in Germany and Belgium before moving to the Netherlands two years ago. The University of Amsterdam is one of the largest universities in Europe with over 30,000 students and is situated in the centre of the city. It is also a member of the League of European Research Universities and collaborates with leading research universities around the world. Juliane's job combines a busy teaching role with exciting research into intergroup prejudice. She recently talked to Sarah Marten about her work in the Netherlands.
Why did you choose to work in The Netherlands?
There were two main reasons why I moved to the Netherlands to work. Firstly for an academic at my stage of career it is probably easier to find work in the Netherlands than Germany. Secondly my partner wanted to move to Amsterdam, partly because English is so widely spoken there. The atmosphere is also very cosmopolitan.
What was the job application process like?
The time span from applying to the job advertised to being offered the post was only one month, which is very unusual. I saw the vacancy on an internet jobs listing, sent my CV and application form and was called for an interview in Amsterdam. The interview lasted about two hours during which I was also asked to give a short talk about my research projects.
Luckily I was a really good fit for the job at the University of Amsterdam – I had applied for one other job in Netherlands and I did not even get shortlisted for that. The University of Amsterdam needed someone immediately to start at the beginning of the academic year, and I was able to commence my new role just two months after seeing the advertisement. This process can sometimes take up to a year.
Did you need a visa or work permit?
No, because I am a European national I can move freely between EU states to work and this inevitably speeds up the application process.
How did you prepare for the move?
One of the main concerns when moving abroad is finding affordable accommodation, particularly in Amsterdam where rented flats are really expensive. I was very fortunate to be offered a guest apartment by the University of Amsterdam, which although small, was big enough for me and my partner. We had been renting a flat in Germany, which we kept for our first six months in Amsterdam, enabling us to leave furniture and possessions there initially. Later on the University of Amsterdam paid for a relocation company to move everything from Germany to the Netherlands.
In Amsterdam it is much cheaper to buy property than to rent, and there are also tax benefits to buying. Within six months we had purchased a flat in the outer part of the city, situated a comfortable 20 minute cycle ride from the university. The University of Amsterdam was very helpful and supportive at every stage of my move to the Netherlands.
What was it like in the first few days/weeks?
Settling into the University was easy, and early on I attended a "Borrel" with my new colleagues. This is a Dutch tradition and usually involves a glass of beer or wine and snacks including cheese, nuts or crackers.
Getting to know local people outside the university has been much harder. The Netherlands is a small country, and in my experience people tend to keep in close touch with people from childhood and they are not really looking to make new friends. However, after almost two years here I feel really settled and have found my niche.
The culture in the Netherlands is also different from Germany, and I have found that Dutch people both within the university and outside tend not to share much of their private life with outsiders. As a result, most of my new friends are from the extensive international community here in Amsterdam.
What about the Dutch language?
Before arriving in the Netherlands I did not speak a word of Dutch! However, my work including all my teaching is conducted in English, which is widely spoken in Amsterdam. I have since attended three language courses, and helped by the fact that the Dutch and German languages are very similar, I am now comfortably fluent in understanding written and spoken Dutch – I still do prefer to teach in English though. Attending language classes also gave me the opportunity to meet other people and make new friends.
What does your job involve?
I spend about half my time teaching students across all levels, including undergraduate, masters and postgraduate students in social psychology. Supervising students is a big part of my role as teacher, such as helping undergraduate and master's students with their theses.
My research focuses on questions about where prejudices come from, the developmental processes involved and the pre-conceptions held by different social groups. I am interested in how people develop attitudes, and how this could be changed. I am currently doing research on the development of intergroup prejudice in children and adolescents, trying to understand the antecedents of prejudice automatization.
I am about to visit the University of Delhi in India for almost four months to conduct some research with local school-children looking comparatively at culture and prejudice and investigating the role that cultural differences play in this context. This will involve extensive testing of the children, along with my collaborators at the University of Delhi. To enable me to take time out from the University of Amsterdam I have spread my teaching out over the forthcoming semester, as my post will not be covered whilst I am India.
What hours do you work?
Our set hours are 38 per week, but in common with all academics I work many more than this, usually between 50 and 60 most weeks. I like to start early, between 7 am and 8 am, which is untypical for the Netherlands but rather common in Germany. My working day usually finishes between 6 and 7 pm. I have an office at the University to myself, and prefer to do most of my work there rather than at home. On occasions I do need to work during the evenings or at weekends, but I try to avoid this as much as possible.
How did you find the Higher Education sector in the Netherlands?
Undertaking research in the Netherlands is quite different to Germany, where I was part of a research group with student research assistants. Here at the University of Amsterdam I work more independently, which has both advantages and disadvantages, and I have no research assistants to help me. Being part of a research group is enjoyable, although I now have fewer meetings leaving me more time for the actual research.
Psychology seems to be more popular in the Netherlands than Germany, with many more students following undergraduate courses. Entry requirements for Psychology are generally lower here in the Netherlands, resulting in a much larger range of academic ability within our student group. This has meant that I have needed to adapt my teaching accordingly. Higher education is probably a little more relaxed in the Netherlands than Germany.
The students here at the University of Amsterdam are given every opportunity to evaluate the teaching and learning in the Department of Social Psychology. Student views and experiences are deemed very important, and these are regularly discussed during staff meetings. This greatly improves the quality of teaching and the student experience.
There is also an expectation that lectures will be entertaining and interesting as well as informative, which is a contrast to my experience in Germany where lectures are rather more formal. Again, this has meant I have needed to adapt my teaching style to fit the different culture here in the Netherlands.
How do you think that working in the Netherlands will benefit your career?
Wherever you are working in the world, it is most important to have your research published in high-impact journals. The University of Amsterdam has an excellent reputation and a good track-record of published work. It is indeed one of the best universities in Europe.
What are you enjoying most about your new life in the Netherlands?
Apart from my interesting job, I am really enjoying the diversity of Amsterdam. You can live here as a foreigner without feeling that you are a foreigner. This gives a freedom, and I don't feel as if I am an outsider. There is so much to see in Amsterdam, including wonderful art galleries and museums.
Has there been a worst moment for you working in the Netherlands?
I have just had an application for grant funding rejected, and this has been very stressful. Obtaining funding for research here is difficult, much more so than in Germany. There is only a 5-10% acceptance rate for research proposals from the main funding agency in the Netherlands, which can make working as a researcher very challenging. However, I do not need to worry about being made redundant, as my post is tenured, which gives me job security.
Have you got any advice for other academics planning to work in the Netherlands?
Before considering a move abroad, talk to academics from your own country who are already working there. Ask about the crucial issue of funding for research.
Biography
Juliane Degner has an undergraduate and a master's degree in Psychology from Humboldt University in Berlin, Germany, graduating in 2002. Remaining in Germany, Juliane then moved to the University of Jena where she started working on her dissertation. At the same time she became a member of the interdisciplinary research group "Discrimination and Tolerance in Intergroup Relations".
In 2004 Juliane moved to Saarland University in Germany, obtaining her doctoral degree whilst working as a research assistant. She then proceeded to work as a postdoctoral researcher, after which Juliane became a visiting research fellow at the University of Ghent in Belgium. In September 2008 she moved to the Netherlands, working as Assistant Professor in the Department of Social Psychology at the University of Amsterdam.
Degner, J. & Wentura, D. (2010). Automatic Prejudice in Childhood and Early Adolescence. Journal of Personality and Social Psychology. 98, 356-374
Sarah Marten
---