by Sarah Marten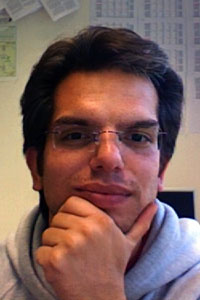 Dr Rahul Premraj
Dr Rahul Premraj is Assistant Professor in Software Engineering at VU University Amsterdam. As Assistant Professor he has responsibility for teaching, both at undergraduate and postgraduate levels and also has a very extensive research programme. Rahul's research focuses on software quality assurance and ways of improving software processes. He recently talked to Sarah Marten about his work in the Netherlands.
Why did you choose to work in The Netherlands?
Before moving to Amsterdam I had been working in Germany as a post-doctoral research assistant at Saarland University. In Germany academic documentation is always written in the native language, making it very difficult for people without fluent German to progress. The demands of my research work did not leave much time to learn a new language, and so the Netherlands appealed as most of what I might need at work is translated into English. Dutch universities are friendlier towards English-speaking people in terms of documentation, including university administration and calls for government research grant applications.
The new post in the Netherlands was clearly a promotion for me, and seemed ideal as I wanted to stay within Europe, and so when I saw the job advertised on a software engineering mailing list I decided to apply. The post of Assistant Professor is the same as lecturer in the UK, and the fact that I had taught students on master's programmes in Germany was clearly an advantage.
How did the visa process go?
As I am originally from India I had to apply for a visa and work permit to work in the Netherlands, which would not be needed for EU residents. My application to work in the Netherlands was made via the "IND Highly Skilled Migrant" programme, which meant the process was quite straightforward. In the Netherlands the visa and work permit are organised by your new employer, and although I had to complete a couple of forms everything went very smoothly.
If you are accepted into the country as a knowledge migrant, you are also entitled to a 30% reduction in income tax, making me better off financially than I would have been in the UK.
How did you prepare for the move?
My partner was also moving to a university job in Amsterdam at the same time as me and so we were fortunate in that she received relocation expenses with her job. This paid not only for the transportation of all our furniture and belongings, but also covered the cost of storage that we needed for the first six months when we stayed in a small studio apartment.
What was it like in the first few days/weeks?
Finding accommodation in Amsterdam is extremely difficult, and I was pretty much left on my own to organise this. I moved to the Netherlands with my partner, also an academic, and we very fortunate in that she was offered accommodation with her new post. Although this was only a small studio apartment, this was fine for the fist six months, after which we were able to buy our own flat. Rented accommodation is extremely expensive in Amsterdam, and if at all possible it is advisable to buy. It is also very difficult to find suitable unfurnished rented accommodation.
Our flat is six kilometres away from the University, enabling me to join with many other Amsterdam residents and cycle to and from work each day. Fewer people own a car here, partly because the associated taxes are very high, and also because public transport is excellent. Cycling is fairly safe in the Netherlands, and drivers have to be very cautious of cyclists. Amsterdam is the most expensive city in the world for parking.
During my first week at the University there was a lot of paperwork to complete, which included registering with the immigration and tax offices and opening a bank account. I also liaised with the University's IT department to arrange access to their IT network. After this I learnt as much as possible about the Dutch education system to prepare me to help my new students once I started the job properly.
Introducing myself to members of staff was also important in these early days, in order to find out about their work and research to explore possible opportunities for future collaboration. All in all, the transition was quite smooth except for the first week when the paperwork had to be processed.
What was the social life like?
The social life in Amsterdam is different to the UK, and although the Dutch are very friendly and open to people from overseas it can be difficult to make close friends. All the friends I have made since arriving are foreigners, and it is hard to break into the Dutch community. Amsterdam is a small city, and most locals live close to their family and friends, and in my experience are not really looking to expand their social network. I found it much easier to make friends in the UK and Germany.
Amsterdam is a beautiful city interspersed with canals and parks, with lots of museums and galleries. However it is also a tourist destination and can be very crowded. It is very safe, despite a reputation for drugs and its red light district. Films are played in the original language with Dutch subtitles, so there are plenty of opportunities to see films in English.
What sort of work were you engaged in?
My work combines research with teaching undergraduate and postgraduate students at VU University Amsterdam. The first aspect of my research is about reducing the defects in software programmes, thereby ensuring high quality software. The second aspect looks at ways of improving the processes in software, particularly in large business systems.
Staff working at Assistant Professor level in the Netherlands do not have any direct responsibility for supervising the work of PhD students. In the Netherlands only full professors can officially supervise PhD students; staff working at Assistant and Associate Professor level are only able to co-supervise.
I spend about four hours a week teaching students, and of course there is preparation and marking on top of that. This is a much lighter teaching load than academic staff at the same level in the UK could expect.
It is in my interest to attend international conferences, and I usually do so about twice a year. I enjoy this overseas travel, and the opportunity to present my work and collaborate with colleagues around the world.
How did you find the Higher Education sector in the Netherlands?
Universities in the Netherlands have very strong links with industry, and this is particularly so in Amsterdam which is very much a commercial hub. For my discipline this means we have strong connections with large IT companies and management consultancies. Ensuring that my research has tangible benefits for the wider industrial world is a vital part of what I do. These links are good for the future employment prospects of our students, and many are offered jobs via their collaborative links with industry.
The other main difference that I have observed in the Netherlands is the greater emphasis on ensuring your research is published regularly in academic journals. There is also a great deal of international collaboration, which makes the job really exciting as you learn so much about different work styles and cultures. This really helps you to adopt the best practices from all over the world. My work is evaluated on the basis of my research rather than my teaching, so research really is a high priority in this job. The universities also employ specialist staff whose only role is teaching.
The HE work culture is broadly similar to the one I experienced in the UK, although I think that the working hours may be slightly longer here. I tend to start at around 8.30 am and finish at 7.00 pm, and aim to keep my evenings and weekends free for relaxation, unless I have a pressing deadline to meet.
What about your work with the Dutch students?
Motivating the students here in Amsterdam is an important part of my work, and one way that I do this is by encouraging them to become involved in my areas of research. I find that the Dutch students become very engaged when I involve them in real research issues, presenting them with a hypothesis and helping them look at ways of investigating this. In this way I can also develop my research ideas, and help students to learn from pilot studies which I can then sometimes incorporate into my work.
What are you enjoying most about your work in the Netherlands?
Engaging with industry and conducting research that can be applied to the needs of employers has been the best part of my job here so far. It is very rewarding to think that my research is of benefit to others. I feel that I have a grasp of the problems industry is facing, and this helps to make my work very relevant and topical.
Have you got any advice for other academics planning to work in the Netherlands?
The way in which academic posts are structured is very different in the Netherlands. Only full professors here have responsibility for PhD staff, at my level there is an opportunity to co-supervise them, but no more than that. This means you cannot delegate work to PhD students, and having to do all the work yourself can slow you down.
How do you see your future?
If I stay in academia my next role will be Associate Professor. You need about six or seven years experience as an Assistant Professor before being considered for that promotion. I love my job here and I am not thinking about moving, although I would not discount a move to the business world in the future.
Biography
Dr Rahul Premaj has had a love of computers since the age of five and during his teenage years became interested in programming. He decided against a degree in computer science for his first degree, choosing instead a BA in Economics at the University of Delhi, which has proved invaluable in his work with industry. Rahul then moved to the UK and returned to his interest in IT, completing his MSc in Information Systems at Robert Gordon University in Aberdeen.
Rahul then headed to the south coast and Bournemouth University, where he undertook a PhD in Computer Science, supervised by Professor Martin Shepperd. His first job was working as a Post-doctoral Scientific Research Assistant at Saarland University in Germany, and after almost two years moved to his current post at VU University Amsterdam in the Netherlands.
Dr Rahul Premraj has published widely in his academic field, and two of his recent research papers are:
N. Bettenburg, S. Just, A. Schr ̈oter, C. Weiss, R. Premraj, and T. Zimmermann. What makes a good bug report? In SIGSOFT '08/FSE-16: Proceedings of the 16th ACM SIGSOFT International Symposium on Foundations of software engineering, pages 308–318. ACM, 2008.
S. Breu, R. Premraj, J. Sillito, and T. Zimmermann. Investigating information needs to improve co- operation between developers and bug reporters. In Proceedings of the ACM Conference on Computer Supported Cooperative Work, February 2010.
Sarah Marten
---