by Sarah Marten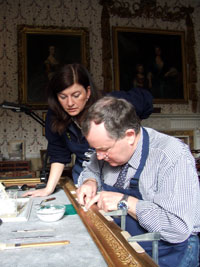 Dr Campbell Norman-Smith with Jane Finch (National Trust) at Kentchurch in Hertfordshire
Dr. Campbell Norman-Smith is course leader for the MA in Furniture Conservation, Restoration and Decorative Arts at Buckinghamshire New University. He also teaches on the BA degree of the same title. The fortunate students benefit from his passion, enthusiasm and expert knowledge of furniture and decorative surfaces. Read how he has also overcome dyslexia to become very successful in his chosen field. Dr. Campbell Norman-Smith recently talked to Sarah Marten about his job.
What does your job involve?
My job is to teach students how to restore a variety of objects, from large gilt picture and mirror frames to ecclesiastical panels and furniture of all kinds. All historical periods are covered. Students learn about the restoration of pieces from the Royal Collections and valuable furniture from stately homes.
Many MA courses are research-based and analytical. Whilst retaining these aspects, about 60% of our course is practical, giving students hands-on experience and skills development. I work in a small team of three staff, and also contribute to the teaching on the BA course.
Practical conservation techniques including cleaning, water gilding, mould making, and casting are taught in practical workshops, where students spend most of their day. This goes hand-in-hand with studies in ethics, furniture history, restoration theory and materials science.
Preparing and leading seminars is also part of my role, and as with any lecturing job, there is a great deal of administration. Using my extensive network of contacts I also arrange seminars and presentations for the students.
Is there a typical student?
Students join us from all walks of life – we currently have a practising GP who is following the part-time route. Most people are professionals working in the industry, who may have a year's sabbatical to enable them to study, or they may be sponsored by their employers.
National Trust Conservators, stately home housekeepers, furniture makers and expert upholsterers are typical students, along with staff from overseas cultural organisations. Occasionally students displaying exceptional promise are recruited, despite a lack of previous experience. It is my job to find and develop that talent.
Our diverse student group combine practical ability, academic depth and interest in science alongside great enthusiasm for the subject. The typical MA student might range in age from late twenties to mid sixties, since maturity and experience are greatly valued. There are 12 students on our MA course, who either attend full-time for one year, or two years part-time.
Describe a typical day
After a 115 mile journey to work, I meet my students at 8.00 am in a coffee bar to discuss our day. At 9.00 am each day I give one hour-long formal presentation in our laboratory, which usually combines a practical demonstration with lecture-style theory. The practical work includes understanding the chemistry and technology of all the materials used, such as resins and woods, and correct use of all the necessary tools. Health and safety in the laboratory is paramount.
The rest of the day is spent in the laboratory where the students work on practical tasks following on from my initial lecture. There are no technicians to assist me; I do everything myself, working alongside the two other members of staff.
For me, being accessible to my students is paramount. Students always have access to a member of the academic staff during the working week.
My working day usually finishes at around 7.00 pm before I start my long journey home. Part of my weekend is usually spent preparing lecture notes and PowerPoint presentations.
Now that I have a young daughter it is important that I set aside time for family life, and I always ensure that my evenings at home are not spent doing additional university work. Ensuring I also find the time to work on my own exciting restoration project – a barn conversion – is vital. This includes making my own furniture out of English oak.
Describe some recent projects your students have worked on
Our students have just finished working on a George Jacobson chair from the Lord Rothschild Collection valued at over £120,000. It had been badly restored in the past following the wrong approach; our aim was to bring this chair back to its original vibrancy and beauty.
Another exciting project we recently undertook was the restoration of an eighteenth century Tang Dynasty Terracotta Horse, owned by a private collector. It had been broken in transit at the airport – the students gained invaluable experience learning the techniques and materials needed to return this to the owner in its former glory.
What else do your students do?
Every year the students spend a week living in a stately home, working alongside the staff on a number of conservation projects. Learning to be comfortable in this environment is vital, and this encourages the integration of conservators both with the people working in the house, and with visitors. For a whole week my students live, work, dine and sleep in these beautiful surroundings, and soon come to enjoy all this as part of a day's work. This unique experience gives graduates from Buckinghamshire New University the edge over their competitors.
Overseas travel in the form of visits and trips are also an integral part of the course. I decide where we will go, and also take part in revenue raising to enable students to participate. One student has recently returned from Paris where they worked closely with a French school of gilding.
One part of the course involves students delivering PowerPoint presentations on a restoration project to a chosen audience. I invite guests from the conservation world, including museums, galleries and stately homes. This 'colloquium presentation' then forms part of the students' assessment, at the same time increasing confidence in speaking to groups.
What do the students do after graduating with their MA?
Many return to their former employers to put their new skills into practice. Other students apply for different positions, finding their degree from Buckinghamshire New University gives them a great advantage in this highly competitive field. The broad experience they gain makes them very employable. Other students take up internships; past students have gone to various places such as Windsor Castle, the Victoria and Albert Museum and have undertaken varied restoration projects including working on Royal thrones.
What do you enjoy about your job?
I adore my wonderful job, and it provides such great opportunities. As course leader I am given a great deal of freedom regarding how I run and organise the MA, provided that the student outcomes are good.
I also firmly believe that learning should be fun and I make sure students and staff alike have a great time. Students have told me that they have found the MA a life-changing experience, which is immensely rewarding. There are only three of us in this department, and we are also good friends outside work.
Is there anything that you do not enjoy?
The only part of the work which is less enjoyable is the administration, of which there is a considerable amount. I am dyslexic, so a computer is a great asset to me.
How have you overcome your dyslexia?
My dyslexia was identified early whist I was at school, where I was given some help. When I was studying for my PhD I employed someone to help with writing up my thesis. I have not let my dyslexia hold me back, and have asked for help where necessary.
Why did you choose this work?
I was inspired by my teachers at school, and since childhood have had a passion for making things, using tools to make models out of wood and metal. After a career as a craftsman furniture maker I developed an interest in restoration and after gaining lots of experience I moved into Higher Education.
What skills and personal qualities are needed for your job?
You need to be very passionate and enthusiastic. I am theatrical, and the laboratory becomes my stage! Good practical skills are also vital, so that you can ably demonstrate to the students what you are describing in lectures. You also need to have good communication skills in order to work successfully with students and to build rapport.
A willingness to constantly look forward and to keep up with constantly changing technologies and materials is also important.
Is there anything that you know now that you wish you had known before you started?
I wish I had learnt more about science and chemistry whilst I was at school, as this would have helped me greatly in my job.
What ambitions do you have for the future?
I want my MA at Buckinghamshire New University to become even more well-known and to personally continue developing this top-quality course.
What advice have you got for anyone interested in your career?
The job satisfaction in this job is immense, although you will never make a fortune. Nothing is better for me than seeing an object broken into lots of pieces, perhaps with sentimental value, finally restored to its original beauty.
What job would you choose if you weren't doing this work?
I would be an auctioneer, as I have a love of antiques.
Biography – Campbell Norman-Smith

Dr. Campbell Norman-Smith is currently the course leader for MA Furniture Conservation, Restoration and Decorative Arts at Buckinghamshire New University. Upon leaving school at 17, he embarked upon a six-year craft apprenticeship in furniture design and making with a leading Yorkshire manufacturer, and also obtained a City and Guilds qualification. He subsequently completed a post-graduate award in Timber Technology at Buckinghamshire College of Higher Education (now Buckinghamshire New University).
He then moved into the education sector, and gained considerable experience while working in the furniture departments of Buckinghamshire College of Further Education and London College of Furniture. He returned to Buckinghamshire Chilterns University College as a senior lecturer obtaining his PhD on Shellac-based filling compounds for the restoration of Boulle* marquetry in 2003. Dr Norman-Smith is soon to be appointed joint chair of the Decorative Surfaces Section of the Institute of Conservation.
*Boulle furniture originates from the 17th and 18th centuries and is typically decorated with brass designs, which are then picked out in black and filled in with inlay.
What do you think about this article? Email your thoughts and feedback to: careers@jobs.ac.uk
Sarah Marten,Academic, Research & Teaching,Professional, Managerial & Senior Admin
---