by Sarah Marten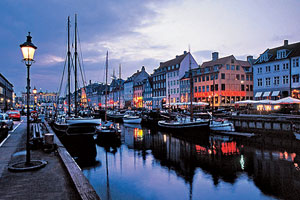 Eva Sorum Poulsen works as a Lecturer in Media Production and New Media Subjects in the Institute of Business and Technology, which is part of Aarhus University, and is located in Herning, Denmark. She is also their Erasmus Socrates Project Manager. Eva originally comes from Costa Rica in Central America, and worked both there and in before moving to Denmark. Eva recently talked to Sarah Marten about the experience of working overseas in Denmark.
Why did you choose to work in Denmark?
I initially moved to Denmark for personal reasons as my husband is Danish, although I had also enjoyed visiting Denmark in the past. I moved to Denmark without a job to go to, and after applying for various jobs I was actually offered three, one in Higher Education, another teaching job in a technical institute and one in the private sector. The economic situation was buoyant at this time although this situation has now changed dramatically.
Back in Latin America there is a perception that those working in the HE are there because this is the only thing they can do, and that they would not succeed in the 'real' world. Of course the reality is somewhat different.
I decided that I would try working in the HE sector and see how it went – as it turned out I really enjoyed it! Although I had never worked in a university before, I had some experience of teaching children IT skills and had also worked as a coach or supervisor for students following master's courses in Mexico, where I helped them with their statistics.
How did you prepare for the move?
I decided to get rid of most of my possessions before coming to Denmark, all except my books and clothes. The bigger items such as furniture were sold. This was quite an undertaking but meant there was less to ship over to Denmark. I used a moving company to transport my remaining belongings before leaving Costa Rica.
Saying goodbye to family and friends is also a difficult part of moving overseas, and I was going to be leaving behind my parents and sister in Costa Rica. Frequent trips to family in Latin America would probably be out of the question given the likely expense.
How did the visa process go?
Having initially come to Denmark on a tourist visa, I was keen to get a job quickly and to obtain a work visa. After accepting the job at Institute of Business and Technology – Aarhus University I downloaded the visa application and presented the necessary documentation at the nearest police station, the process that was straightforward. The visa was initially granted for one year and has to be renewed every three-four years beyond this.
What was it like in the first few days/weeks?
Lecturers in Denmark need a teaching qualification, and when I arrived here I completed a Diploma in Education, on an online distance-learning basis over a period of three years whilst employed as a lecturer by the Institute of Business and Technology – Aarhus University. This qualification provided me with the necessary theory to back up my practical teaching experience. Having this recognised qualification is a definite advantage.
Although Denmark is clearly a very different environment to that in Latin America, I soon adjusted and found the transition relatively smooth. Everyone was very welcoming and friendly, although it still took a while for me to feel really comfortable. The settling process takes time and you need patience and a thick skin. Colleagues were rather curious about me – what was someone from Latin America doing in Denmark and why?
I was very fortunate in that my husband already had a house in Ejsing, a small town in Jutland, which is about 65 km from the university. There is practically no traffic and this journey only takes me about 45 minutes. I had been used to driving long distances in Mexico, so this journey was not a problem.
Being away from family and friends certainly took some adjustment, although my family have visited me every two years since arriving here.
What about the Danish Language?
When I arrived here in Denmark I did not speak a word of Danish, although it was something I did not need to worry about too much. Almost everyone speaks English, albeit at different levels, and people are so willing to communicate in this international language. However, I am also fluent in Spanish and Italian and wanted to learn the local language and so joined Danish evening classes.. Danish is very difficult to learn, but after two or three years' hard work I was able to read and write fluently.
My work here, including all my teaching is conducted in English. There is definitely a move in Denmark towards teaching in English here as this prepares our students for an international career, although at present most teaching is still done in Danish.
How do you find the Higher Education sector in Denmark?
There is no private HE system in Denmark – all the universities are public and open to Danish and European residents. There are no tuition fees for EU residents, and Danish students receive a monthly allowance to help with the costs of accommodation and books. Students in Denmark have a much easier life than those in Latin America, or indeed many other countries.
The way in which students and staff communicate in Denmark is very different to Latin America, where things in HE are very much more formal. In Denmark everyone is on first name terms, and the university is quite relaxed.
I generally teach around 6 lessons a week, and am given three and a half hours preparation for each lesson. This makes the workload quite manageable, although I am quite busy with the work I do for the Erasmus project as well. Although we finish at 4 pm, I usually work in the evenings once my two children are in bed.
How is life in Denmark?
Denmark is very family friendly, and almost everyone works from 8 am to 4 pm to allow quality time with family in the evenings, which is untouchable. I now have two small children, so these hours fit around my family really well. There are no stay-at- home Mums in Denmark – everyone works full-time as the cost of living is really high. Adjusting to the high costs of basic items including food and electricity took some adjustment; in addition taxes here are the highest in the world. About half your salary goes in tax – this was a shock to me.
The Danish way of life is quite different to anything I experienced in Latin America. In Costa Rica people are quite spontaneous, and friends might phone one another during the day to suggest going out that evening. Here in Denmark everything is planned at least two weeks ahead. If I knocked on my neighbour's door and asked them to meet up for a coffee later on, they would think me very strange!
Many people in Denmark operate according to the 'Jante Law', where success is portrayed negatively and effort is not acknowledged. Being aware of your own strengths and successes would be seen as inappropriate, or perhaps viewed as showing off. Anyone working in Denmark needs to be aware of this, or they could become quite unpopular in the work environment. Denmark is a country where social equality is very important, and Danish children are educated in this approach from a young age.
Finding affordable accommodation in Denmark is possible, although renting accommodation tends to be much more expensive than buying. Most people aim to buy a flat or house if they can. The capital city Copenhagen is a very expensive place to live.
What sort of work are you engaged in?
As well as lecturing in media production, with a particular interest in the development of international strategies, I am also Project Manager for the Erasmus Socrates project here at the Institute of Business and Technology – Aarhus University. This has involved developing a joint degree in Media Development Engineering between six HE institutions, in Denmark, Belgium, Finland, Spain, Poland and Slovakia. Developing this new degree has meant lots of meetings and negotiations, especially with so many different countries' HE systems to consider.
How do you find the Danish students?
The students here at the Institute of Business and Technology – Aarhus University are very hard-working and motivated, although they can also be quite demanding at times. Many of the students are used to having everything done for them by their parents, and they have to learn to take responsibility for themselves. The Students Unions in Denmark are quite powerful, and the students are often outspoken, often saying what they mean. This is quite different for me, coming from Latin America, where students are generally very grateful to have achieved a university place, and the competition is usually far greater.
What are you enjoying most about your work in Denmark?
It is a joy to be here, and I am doing things that I would never have been able to do back in Latin America, such as travelling so widely throughout Europe. Meeting so many different people and learning about lots of different HE systems has been very interesting and rewarding. I love the international aspect of this work.
Is there anything that you don't enjoy?
The weather can be very cold and the winters are long and grey. I was used to sunshine every day at home in Latin America!
Have you got any advice for other academics planning to work in Denmark?
Although there is a high demand for qualified people in Denmark it is really important to find a job before you arrive. The immigration situation here has changed dramatically since I arrived, and I would never recommend anyone to do what I did.
Biography
Eva Sorum Poulsen was born in Costa Rica and grew up in Mexico and attended the Universidad Autónoma Metropolitana to study an MSc in Civil Engineering and a MA in Graphic Design. After graduating Eva worked in the drawing office of a construction company in Mexico. She also continued her part-time job which Eva had done since the age of 13, teaching children from poor communities IT skills. Eva's next job was as a manager undertaking public bids for a company who provided equipment for universities, again in Mexico. Whilst living in Mexico Eva also worked as a freelance graphic designer for an advertising agency and also worked at the university as a coach supervising MA students. She then moved to Costa Rica in Central America, developing IT networks for an American company.
Eva subsequently moved to Denmark where she has built up a successful career in Higher Education, initially as a Lecturer in e-Business and has more recently moved to become Lecturer in Media Production and New Media, at the Institute of Business and Technology – Aarhus University.
Sarah Marten
---