by Sarah Marten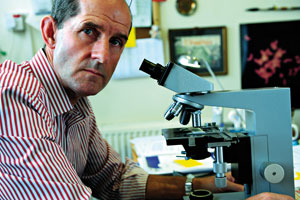 Professor Adrian Bone
Professor Adrian Bone is Professor of Cell and Molecular Biology and Head of Research at the School of Pharmacy and Biomolecular Sciences (PABS) at the University of Brighton. The pharmacy school is one of the oldest accredited pharmacy schools in the UK. Adrian's role as Head of Research involves looking after the research interests of around 70 staff and 60 PhD students. The school has been awarded a top level assessment in recent Research Assessment Exercise (RAE) ratings.
As well as holding wide-ranging managerial responsibilities within the University, Adrian finds time to continue his own research and has a special interest in the causes of diabetes and its complications. In collaboration with other research scientists at Brighton and beyond, he has found that common viruses can play an important role in triggering the development of this disease. Adrian has also jointly been awarded an Academic Excellence Award (2008) from the Royal Pharmaceutical Society with his colleague Dr Wendy MacFarlane.
What does your job involve?
I look after the research infrastructure in the School of Pharmacy and Biomolecular Sciences, which includes the facilities and equipment used by our multi-disciplinary teams of biologists, pharmacist and chemists. My role also includes teaching undergraduate modules and professional courses in the biomedical sciences area. I also supervise the work of two PhD students, one of whom is investigating a new class of drugs to help in the treatment of type 2 diabetes. Beyond the University of Brighton, I also maintain a wide range of professional interests and responsibilities.
What do your managerial duties include?
I chair the Research Management Group in PABS, which comprises twelve staff, including six principal researchers, a research student divisional leader, research fellows and our technical manager. We meet once every three weeks, and as well as managing our resources we look at ways of attracting funding. As a group we manage a budget of around £500,000 a year, which we spend on research support salaries, studentships and leading edge technologies.
We attract around £300,000 in core funding from the University, and raise around £1.2 million annually via research bids. Each principal investigator manages their own grant. I also oversee the Research Assessment Exercise (RAE), over a five to six year cycle, which helps to formulate our overall research strategy. Working closely with other members of staff here at the University of Brighton, we have improved from an RAE rating of two many years ago to the top grade of five.
In a few months we are moving into a brand new £23 million building. Re-locating both laboratories and teaching areas is quite a challenge, and I could not have achieved this without the work of our fantastic technical manager, Bob Salvage and his team. Working closely with such great colleagues is a very rewarding part of this job.
What other research projects are you involved in?
In PABS we have been working on developing practical implantable devices for patients, including those used in cardiac care. Doctors use cardiac stents to help cure blockages in arteries, and it is vital that these are not rejected by the body. Here at Brighton our scientists, including chemists, clinical pharmacists and biomaterial scientists, develop innovative drug-releasing stents, and help to prevent adverse reactions in patents. Close liaison with colleagues at the Brighton and Sussex University NHS Trust is a vital part of my job.
Is there a typical week?
I operate an open door policy, so my two PhD students can pop in whenever they like. We have a regular Diabetes Research Group meeting on a weekly basis, where we look together at the progress of our research. Contact with students is the nicest part of my week, and I usually spend between three and four hours a week supervising and teaching. Much of the remainder of my time is spent in meetings. I also attend conferences, both in the UK, Europe and the US, and lecture at the Institute of Postgraduate Medicine here at the University of Brighton. People think academics have about three months off during the summer, but in fact this is our busiest time, when most of our personal research and scholarly activity takes place.
What else do you do at the University?
The University of Brighton's Research Training Framework is another area of activity, which offers training for postgraduate students in research methods. This includes not only our own school, but also the School of Arts and Media and other areas across the University, and involves assessing research activities and undertaking internal assessments. I also help to develop and manage research and assessment issues across our five sites as a long-standing member of the University Research Strategy Committee
What does your role outside the University involve?
I have quite a varied portfolio of outside involvement. Until recently I was Chair of Science and Research Section at Diabetes UK, which was a professional advisory role. I am also an external assessor with various European initiatives, which look at the movement of researchers around the world. I visit the European Union in Brussels annually for Panel Meetings on research applications for fellowships.
Every year I also chair three or four sessions at the Diabetes UK Annual Professional Conference, with about 7000 delegates, which lasts about four days. In addition I attend about three or four other conferences a year in Europe or the US.
How many hours do you work and how does this affect your work life balance?
I am contracted by the University to work 37 hours a week, but the demands of the job mean I usually take work home to complete during the evenings, and probably work about 60 hours in total each week. However, I always try to keep weekends free to spend with my family. Making sure I leave sufficient time to keep fit is also important, and during the warmer months I cycle around 200 miles a week.
Describe the skills and personal qualities needed for this work?
Being a people person is very important – here at Brighton we have staff from all over the world and so you need to ensure that everyone works together well. The culture is very much one of sharing. To be successful in this role you must most of all enjoy what you are doing. You also need to be determined, aspirational, and ambitious.
What do you like about your job?
This job is fantastically rewarding! Six of the senior Principal Investigators in PABS originally joined the School as post-doctoral researchers, and I have helped to create the sort of supportive environment which has enabled staff to flourish and the department itself to grow. We can now successfully compete for grant bids against the older established universities such as Oxford and Cambridge.
I enjoy research, and it informs my teaching, and I also love the whole process of applying for grants and writing papers. For me, managing people is both satisfying and challenging, although I did not set out to become a manager. I am still a competent scientist and it is this that motivates me.
What other challenges have you faced?
When we first became a University in 1991 it was very hard to get funding. Joining a former polytechnic might have been seen as a risky career move, but I made a decision to put my personal ambitions to one side. There were frustrations, but I am pleased to say that everything has paid off.
If you weren't in this job what do you think you would be doing?
I can't think of another job which would provide the same level of opportunity for me to express myself and to work with such a diverse and exciting group of people. I could be earning more in other environments like industry, but that would not give me the academic independence that I have now.
Biography
Professor Adrian Bone obtained his first degree in Biological Sciences from the University of Aston and then completed a MRC funded DPhil at the University of Sussex. His interest in diabetes stretches back to the early days of his career, continuing when he obtained a travelling fellowship in Sweden, where he worked as a full-time researcher. After returning to the UK, Adrian worked as a post-doctorial researcher under Sir George Alberti. Next the NHS beckoned, where Adrian secured a post as a senior clinical biochemist, working in Edinburgh for five years. His love of research led him to successfully apply for a senior lectureship at Southampton, where he spent another five years. In 1991 Adrian joined the staff of Brighton Polytechnic in a period of momentous change, just months before it was to become a new University. In the 19 years he has been at the University he has built up the research culture in Pharmacy and Biomolecular Sciences, from a low baseline in 1991, to the highest possible RAE grading in recent years.
Professor Adrian Bone is also the author of many research papers, and is a senior member of several prestigious scientific associations and committees.
---