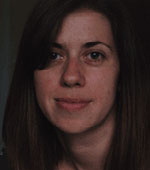 Dr Victoria Southgate,
Wellcome Trust Research
Career Development Fellow
at the Centre for Brain
and Cognitive Development
Birkbeck, University of London
Dr Victoria Southgate has worked at the Centre for Brain and Cognitive Development at Birkbeck (part of the University of London) since 2004, where she was initially appointed as a post-doctoral research fellow. In 2009 she become a Wellcome Trust Career Development Fellow, following a highly competitive selection process.
Victoria works in the "Babylab" at Birkbeck, where babies and young children up to the age of two visit to become the subjects of scientific experiments into human cognitive development.
Victoria talked to jobs.ac.uk about the motivation behind her research, and offers readers some great tips about how to develop a research career.
"My research focuses on how infants learn about other people and how they learn from other people. I am particularly interested in how infants make sense of other people and their actions and how the infant brain processes people and actions. The well-known psychologist Piaget suggested that infants are highly egocentric, but my research has shown that they are indeed aware of other people's intentions and volitions from an early age. Infants really are quire adept at seeing things from the other's perspective.
"I became interested in infant cognition during my PhD at the University of St Andrews, where I investigated the differences between primates and young children in their object knowledge. I found these questions fascinating, and undertaking this research led me towards my ongoing research into social cognition in children."
For Victoria meeting other inspiring academics and researchers involved in this area of psychological research over the years has been an important part of her journey and its destination.
Achieving a highly-prestigious and competitive Wellcome Trust fellowship is no easy task, and from the initial days of her PhD Victoria ensured her research was experimentally robust and statistically sound. Extensive literature searches and reading during the first year of her PhD helped achieve these goals.
"You need to be prepared to submit lots of applications for research jobs and[VS1] be prepared for rejection too! The same is true of applications for research funding, where the success rate is normally no more than 1 in 10. It is vital to be realistic and to have a back-up plan. You also need to be thick-skinned in order to withstand the inevitable rejections. Grant-making trusts and organisations, whether publicly or privately funded can also be affected by the economic climate. Persistence and resourcefulness are also important. Sometimes this might be about finding ways of cutting the costs of experiments, for example. by running more than one experiment on the same participant[VS2] .
"There is an increasing need for research proposals to have relevance and application to everyday life. If the awarding body is publicly funded, then ultimately you are answerable to the tax-payer. With my own research, I need to convince the awarding bodies that my research into how a normal infant brain develops is relevant and applicable, which of course I believe to be the case."
Victoria is fortunate in that she now has team-members to help her with her research – a research assistant and a PhD student[VS3] , as well as volunteer interns. This means that she can readily delegate some of the research tasks to others.
"Now that I have my own young child, and am balancing a family life with my career it is really important for me to establish a workable home-life balance. Before I had my son, evening and weekend work wasn't unusual. This was never a chore, since research is about so much more than being "just a job". It becomes your life and your passion, although of course I still had other interests.
"Becoming established as a researcher before having children has been important to me. My partner is very supportive, and we share the drop-off and collection of our son to nursery, which makes all the difference. Had I become a parent earlier in my career, it would have been so much more difficult to establish myself academically. There is often a long delay between the submission of a research paper, and it being accepted for publication, perhaps as long as two years.
"These days I tend to do less empirical face-to-face testing of infants, leaving this to the others in my team. In a way I miss being actively involved in the collection of data, and nowadays I focus more on the data analysis aspect of the work. Analysing EEG output is part of this, which is then statistically analysed using SPSS. I am comfortable working with numbers, and this is important, although you don't need to be an outstanding statistician or mathematician.
"I pretty much taught myself the statistics you need to be a psychology researcher. My first degree included very little statistics, but once I started my PhD I was expected to teach this to undergraduates, so I had to learn very quickly!
Victoria's work is mostly research-based, although as she works within a university there is also a small teaching commitment.
"I lecture undergraduate psychology students, in the area of brain and cognitive development. This involves the usual lecture preparation, marking exams and running seminars. This term I have given four lectures, so the commitment is fairly minimal. However, the experience will prove invaluable should I decide to apply for university senior lecturer posts in the future.
Victoria wouldn't swap her job for anything else and really loves her work:
"I really enjoy discovering how humans have evolved their complex cognitive mechanisms for learning what they need to know. Generating testable hypotheses and planning well-designed experiments is also very exciting. I also love having conversations with colleagues in the academic world, including those overseas. I have forged collaborations with various colleagues both here at Birkbeck and beyond, and this provides me with an invaluable resource to bounce ideas around.
Biography
Dr Victoria Southgate has an undergraduate degree in Psychology from the University of Surrey. After taking a year out, Victoria attended the University of St Andrews in Scotland to undertake her PhD. She then worked as a post-doctoral research fellow at the Centre for Brain and Cognitive Development, at Birkbeck, University of London for five years. In 2009 Victoria became a Wellcome Trust Research Career Development Fellow.
Southgate, V., Johnson, M.H., Osborne, T., & Csibra, G. (2009). Predictive motor activation during action observation in human infants. Biology Letters, 5, 769-772
Southgate, V., Senju, A., & Csibra, G. (2007). Action anticipation through attribution of false belief in two-year-olds. Psychological Science, 18 (7), 587- 592
http://www.cbcd.bbk.ac.uk/babylab
---
[VS1] I was mainly talking about grants/fellowship applications here since I myself only applied for one post-doc and got the one i applied for.
[VS2] i would not say its good to spend less time in the lab – just to make the time you do spend in the lab extra economical
[VS3] well, one of these people is a part-time research assistant and a part-time phd student – not sure how you want to phrase that
Sarah Marten,Psychology Jobs,Academic, Research & Teaching
---