by Sarah Marten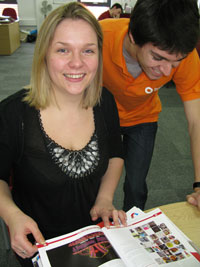 Alison Lee
Alison Lee works as a Recruitment Officer at Buckinghamshire New University, a role that involves recruiting new students rather than members of staff. Alison works in a team of three recruitment officers within the University's Marketing, Communications and Recruitment Directorate. She is passionate about the institution and all it has to offer potential students. She recently talked to Sarah Marten about her job.
What does your job involve?
I am the first point of contact for course enquiries about the university, which may come from Connexions staff, parents, teachers or potential students. The University's free phone enquiry line comes directly through to our team.
An important part of my job is organising events such as the five annual open days, which encompass all our academic faculties. This involves not only giving advice and guidance on the day, but everything from booking rooms and arranging catering to setting up banners and posters on campus. Close liaison with a wide range of academic and other staff is vital to ensure the success of our open days. I send information packs to potential students and also brief our team of student ambassadors. They are available on the day to help set up and also give advice and information to our visitors.
My role also involves working closely with our partner Further Education Colleges, such as Amersham and Wycombe College, and the University validates their Higher Education courses.
I work very closely with the University's admissions team (another important aspect of my job) and I refer students to them for advice on UCAS procedures. I also edit the University course profiles which appear on the UCAS website, and sometimes write and proof read recruitment publications.
Do you have any administrative support?
Any administration is usually done by our team of three recruitment officers, which can involve everything from sending out information packs and prospectuses to data entry. However, we are very fortunate to have a team of student ambassadors who provide us valuable extra support at very busy times.
Are you involved in clearing?
The annual clearing in August is a very busy time for me when I provide information, advice and guidance to students who are looking to secure a University place. Around 1000 students are placed at Buckinghamshire New University during this time. As well as providing guidance over the phone, students also drop into our office for one-to-one help.
Does your job involve any travel?
I travel all over the UK and to Eire, mainly to UCAS fairs, Higher Education and post-graduate events. I am due to visit Manchester, Leeds, Sheffield and Derby where I will give advice to prospective students, both about our courses and about life as a student at Buckinghamshire New University. I usually attend at least a dozen such events each year, often with a student ambassador to help me and to provide an alternative view of the University to potential students.
Why did you choose this work?
I am quite a bubbly person, and I knew that I would never really enjoy a job where I was office-based all the time. This job really suits my personality as it involves meeting so many different people at all levels from senior academic staff to students. The opportunity to travel also appealed to me. Most of all, I thought that this job would be very rewarding and varied, which has certainly proved to be the case.
What are the hours/working conditions?
My basic working hours are 8.30 am to 5.00 pm Monday-Friday. However, you do need to be very flexible, as attendance at Higher Education events and open days can involve evening and weekend working. In the same way we have to work longer hours during clearing in late August and early September, which includes weekend working. However, we are given time off in lieu, and we can occasionally work from home on project work. I live locally and am happy to put in the extra hours when needed. The recruitment team all share a bright and airy open-plan office on campus.
Which of your qualifications have you found the most useful?
For me, having a vocational degree in marketing management has been a great advantage. Other degree subjects are also useful, although many people with non-vocational degrees find that they also need to obtain professional qualifications such as those offered by the Chartered Institute of Marketing.
What skills and personal qualities are important?
I see myself as an ambassador for Buckinghamshire New University, and providing a very high level of customer service is paramount. In order to achieve this you need confidence in the product you are selling as well as a high degree of self-confidence. Working with so many people of differing ages and backgrounds serves to increase your confidence, as does giving talks and presentations. Excellent written communication skills are also equally important in this job.
What do you enjoy about your job?
Helping people fulfil their ambitions is ultimately very rewarding, and I also love the diversity and challenge since no two days are ever the same. There is a great deal of satisfaction when first advising someone about our University at a UCAS fair, talking to them over the phone about their application, and then eventually seeing them on the campus a year or so later. As a team we also socialise outside work which all adds to the positive atmosphere.
This job is especially rewarding as Buckinghamshire New University attracts many non-traditional applicants, including high percentages of mature students and people from all ethnic backgrounds. The University prides itself in providing a supportive atmosphere, for students and staff alike.
Any dislikes?
Data entry and sending out prospectuses can be time-consuming, but there are no aspects of this job I dislike.
Is there any on-the-job training?
Buckinghamshire New University provides an excellent range of in-house training courses on a range of topics which include media, publications, self-development, IT and customer service. I have taken advantage of many of these courses and have also completed training in sales techniques and how to do radio interviews. However, much of my training for this role has been on-the-job. We are fortunate in having a very supportive manager who gives us a detailed brief about what we are required to do, and provides training where needed, for example in how to give guidance.
What prospects are there and what ambitions do you have?
There are many possibilities for promotion within Buckinghamshire New University. Eventually I may like to consider becoming a publications manager or faculty marketing manager, both of which would make good use of my varied experience. At present I am more than happy in this job!
The prospects within this University are excellent and your future is not as dependent on economic factors as it might be in other more volatile sectors. Our courses are very popular, our success being partly due to our wide curriculum offer which includes work-based qualifications and part-time professional qualifications.
What do you know now that you wish you had known before you started?
A Masters qualification in marketing would have been a great advantage to me, and although it would be possible to do this on a part-time basis, the demands of this job would make that quite difficult. In the same way a qualification in information, advice and guidance would be beneficial, and I know that if I decided on either of these options the University would be very supportive.
What advice have you got for people interested in this career?
A degree or professional qualification in marketing is very useful, as this field is highly competitive. In addition it is important to gain varied experience after graduating, possibly starting in an admin role if necessary.
If you weren't in this job what do you think you would be doing?
I cannot imagine doing anything else at present, as this job is great fun and also very challenging. The university is so friendly and supportive; it is like one big happy family. Any job I do would have to involve lots of contact with people but the idea of being a marketing lecturer would also appeal.
Alison's Biography
After taking A-levels in Business Studies, English and RE, Alison Lee read Marketing Management at Coventry University. She went on to work for an advertising agency, undertaking proof reading, copywriting and setting and editing advertisements for press and radio. Alison stayed in this role for one year, but wanted to move onto something less desk-bound and more sociable. Her advertising experience proved invaluable in her next job as marketing officer for Berkshire College of Agriculture. Working on school events and giving presentations gave Alison the broad experience she needed to ensure a successful application to Buckinghamshire New University for the position of Recruitment Officer. She has been in this job for two years.
What do you think about this article? Email your thoughts and feedback to: careers@jobs.ac.uk
Sarah Marten,Professional, Managerial & Support Services Jobs
---