Dr Amr Swid has been working at the New York Institute of Technology (NYIT) since 2004, when he joined as instructor and has since been promoted to Assistant Professor of Management and Department Assessment Director. This followed a successful career in the pharmaceutical industry as a business manager, having originally qualified as a pharmacist.
Bahrain is a is very small country close to Saudi Arabia and Qatar, with a population of just over a million, occupying 257 square miles in total. Bahrain is an archipelago of 33 islands, the biggest of which is Bahrain Island, just 34 miles long and 11 miles wide.
Amr recently talked to jobs.ac.uk about his work in Bahrain.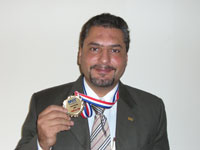 Dr Amr Swid
Why did you choose to work in Bahrain?
 "My job as business manager for an American pharmaceutical company took me to countries all over the world, including Bahrain. I liked Bahrain so much that I decided to accept a permanent position there with the same company. Later on I applied to the British Council to be a counsellor working for the Strathclyde University MBA Program in Bahrain. The post of counsellor was quite similar to the role of university tutor in the UK.
Bahrain is a great place to live. It is civilised, peaceful and modern and the people are helpful and friendly. It is ideal for single people, or for those who are married, with or without children. I now have a wife and baby, and we are all really happy here.
Bahrain is also an open country. For example, for those who choose to drink, alcohol is readily available in shops which sell for non-Muslims and is also served in some restaurants. It is a country that respects you whether you share the Islamic faith, or are part of another faith, or none. Religious freedom is important in Bahrain, and you will find mosques along with Christian churches and synagogues. Being a Muslim myself probably made the settling-in process more straightforward, but equally anyone, whatever their background will find it easy to adapt and make friends here.
Slightly less than half of the academic staff at the NYIT are women, and being female in Bahrain is no barrier whatsoever. Non-Muslim women would not be required to wear a veil.  We have members of staff from all over the world, including America and Europe.
What made you move from the business sector to academia?
Working with the students at Strathclyde University here made me realise that I really enjoyed the academic world. I loved sharing my knowledge of the business world with students, and enjoyed chairing discussions as well as lecturing. Academia also offered me a more flexible working pattern – if you want to start work very early in the morning and finish early this is often possible.
My job in industry had involved very long working hours, and was very sales driven. I was ready for a change, and working in a University seemed to offer just what I was looking for. This decision proved to be the right one for me.
Did you need a Visa?
A working visa for Bahrain is essential and is not difficult to obtain if you have been offered a job. However, it is a time-consuming process that can take anything from two to six months to complete. I had to assemble a series of personal documents which were then submitted to the ministry of education via my new employer.
What is the Higher Education sector like in Bahrain?
There are two large public universities – Bahrain University and the Arabian Gulf University, both with large student populations. In addition there are a number of smaller state-funded higher education institutions providing vocational training. Lastly there is the private sector, of which NYIT is a part.
The Quality Assurance Authority and the Secretary General for the Higher Education Council both work to establish and maintain the highest standards.
NYIT – Bahrain is quite reasonable in size with about 900 students in total, and has a mixture of students, some of whom combine jobs with their studies. They are either privately-funded or sponsored by business.  The School of Management comprises a group of young ambitious academics who are determined to make a difference. As a result the university, having only had a presence in Bahrain since 2003, has already established an excellent reputation for teaching and funded research. Being a part of this team of motivated staff has been really satisfying.
What about the Bahraini students?
About 85% of the students are local (Bahraini), with the remainder coming from Saudi Arabia and other surrounding areas. Muslim students make up a slightly higher proportion, with the remaining 10% coming from Christian or other backgrounds.
I find the Middle Eastern students quieter and more reserved than their UK counterparts. European students are generally much better at expressing themselves and delivering presentations. However, the Bahraini students are very smart and capable and often have enhanced numeracy skills. Maths and English language is encouraged in Bahrain schools. I would say that Bahraini and European students are equally motivated and hard-working.
What have you enjoyed most so far? 
Working with a like-minded group of colleagues has been great, and they have also become my friends. There is lots of do here in Bahrain, from beautiful beaches to a range of cultural events.
Is there anything you do not enjoy?
The main challenge is definitely the weather! It can get uncomfortably hot in the summer when temperatures soar to over 40 degrees for several months. We don't have a winter as such and temperatures never drop much below 15 degrees. We rely on air conditioning and outside activities are impossible during the hottest months.
How might the experience of working in Bahrain benefit your career?
Bahrain vision 2030 is a comprehensive economic vision providing a clear direction for economic growth in Bahrain, developed by the Bahrain government and focussing on education and human resources development. Fortunately NYIT's vision matched this, and I am delighted to be a part of this. It is an exciting time to be working at the NYIT alongside such a competent group of young researchers. All this will benefit my future career, whether that is here in Bahrain, or elsewhere.
Have you got any advice for other academics planning to work in Bahrain?
Bahrainis are friendly and open – it is easy to get to know people
Finding suitable accommodation is straightforward. Property agents are happy to show you around. Rental costs are similar to the UK, although you will often be given a housing allowance in addition to your salary. Most expatriates rent a property
The country is small and compact and you can drive from one side to the other in less than an hour. Most people have their own car, as public transport can be infrequent
UK academics will find their education and experience highly-valued in Bahrai
Bahrain's economy is fairly good – GDP has grown at 6% over the past five years
When you are looking for work in Bahrain, make sure that the university you are applying to values quality research."
Biography 
Dr Amr Swid has just completed his PhD at Aston Business School, whilst working full-time as a lecturer in Management at the New York Institute of Technology in Bahrain. His research falls under the disciplines of work psychology, organisational behaviour, organisation studies and human resource management. His PhD research focussed on the role of the 'Big Five Personality Traits' and how these influence newcomer adjustment in the workplace.
Before joining the NYIT Amr worked in a series of business management roles for the American pharmaceutical company Eli-Lilly in different countries. He holds an MBA from Strathclyde University and a Marketing Diploma from the London Chamber of Commerce and Industry. He has a BSc in Pharmacy from Cairo University, Egypt.
Sarah Marten
---