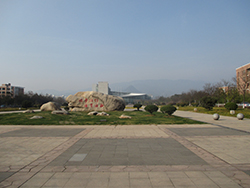 Main entrance to Zhejiang Normal University
Francesca de Lucia is a Swiss and Italian double national. She grew up in Naples, Italy and holds a PhD in American literature from the University of Oxford, UK. Previously, she obtained a Master's degree in English from the University of Geneva, a diploma in American studies from Smith College, Massachusetts, and a certificate in the didactics of English from the University of Geneva. Since February 2014 she has been working as an Associate Professor of English at Zhejiang Normal University, Jinhua, China.
Francesca de Lucia shares her experience of working in China.
Why did you choose to work in China?
I was interested in experiencing a totally different academic environment, having moved around various countries, but always in the West. The difficulties in finding worthwhile academic work in Europe and the advantages included in the job offer in China (such as free housing and the reimbursement of a yearly round trip to Europe) also acted as incentives.
How did you prepare for the move?
I tried to gather as much information as possible on the university I would be working in, as well as on life in China, reading expat blogs for instance.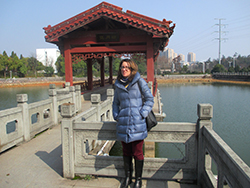 Francesca by campus lake
How did the visa process go?
It was smooth and fairly unproblematic. Once I signed my contract my university sent me a letter that would enable me to get a visa. I took it to the Chinese embassy along with my passport. After a few days, my passport was returned to me with a temporary visa. When I arrived in China, I had to go to the police (which I did with the help of a member of the university's staff). There I was given permanent residence, with the possibility of exiting and re-entering the country freely.
What was it like in the first few days/weeks?
The first few days required some adjustment, especially for practical reasons. I arrived in February and wasn't aware that there is no central heating in the South of China. It also took some time to organize and structure my work in such a different environment. I was lucky to be able to rely on a network of other foreign teachers, some of which had spent several years in China and were thus able to help and advise me in various ways.
What sort of work were/are you engaged in?
I have been teaching my specialty, that is, American literature and, in particular, ethnic American literature. One of the reasons that prompted my recruitment was my familiarity with Chinese and Asian American writing. However, in the future I might be called to teach different subjects, such as English writing and reading courses, or didactics of English (the university I work for has a strong emphasis on training school teachers).
How many hours do you work?
I teach around twelve hours a week, of course I spend many more preparing classes, grading papers, etc.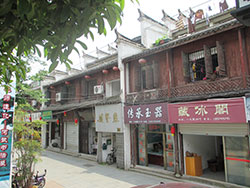 Street in the old city of Jinhua
How did you find the Higher Education sector in China?
The University is divided in colleges and research institutes. There are members of the administration who cater specifically to foreign teachers. Some funding is available but is not sufficient to cover the entire costs of expensive overseas trips.
I am expected to publish two articles per year.
What about your work with the students?
Overall, Chinese students are friendly, diligent and eager to learn. However, for cultural reasons, they are often reluctant to participate in class, ask questions or signal that they haven't understood something. As a result, it is necessary to be very encouraging and nurturing. I have found the students respond well to this kind of attitude and consequently open up.
What is the social life like?
As a Westerner, I have found that my social network chiefly includes my foreign colleagues. Social activities include parties at people's houses as well as going out for meals and drinks. Restaurants are delicious and cheap. Other possible leisure activities in what is a small town by Chinese standards are walks and sightseeing activities.
What have you enjoyed most about your time in China?
Working in China has been an exciting and fascinating experience under many different points of view. I greatly enjoy my work with the students, as well as the experience of discovering a new culture and environment.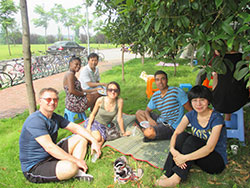 End of the year picnic
Do you face any particular challenges?
As mentioned before, many of the problems I encountered were of a practical nature. Making my flat warm enough and decorating it so that it could feel truly like "home". Another obvious and significant challenge was the language barrier, especially as, outside of the university area, very few people speak any English. I am doing my best to learn the language, making use of the free language classes Zhejiang Normal University offers to its foreign faculty and working with a tutor.
The work method in a Chinese university is also somewhat different from that found in Western university, and requires flexibility, creativity and the capacity to work independently. Foreign teachers receive very little supervision and are free to organize their courses as they wish. While this can be enjoyable, it also means that you must solve most problems and glitches more or less on your own.
How has working overseas helped your career?
While I had several publications, my teaching experience was limited, since while doing my PhD in Oxford I could teach only tutorials, and not larger groups. I feel this is going to be helpful for the future. I also believe that working in China shows potential employers in any field that you have the capacity to adapt to an alien milieu, acquiring new skills and work methods.
What was the best moment?
It is difficult to single out a specific moment. The best ones include: students telling me how much they had enjoyed my classes and thanking me for my "dedication"; discovering the dreamlike landscapes of the Yellow Mountains in the nearby Anhui province; learning to navigate my way in the lively neighbourhood food market.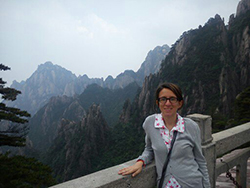 Francesca on trip to the Yellow Mountains in Anhui Province
Have you got any advice for other academics planning to work in China?
Working in China presents a certain number of advantages (namely a free flat, one reimbursed round trip to Europe a year and some funding for conferences), especially in light of the present dearth of academic positions in the West. Nevertheless, if you have never travelled to China before, keep in mind that moving there requires open-mindedness, flexibility and the ability to accept a totally different (and occasionally potentially puzzling) culture.
I also strongly suggest learning at least some basic Mandarin, even if you work in English and the prospect might appear daunting; I think this potentially makes daily life interactions simpler and allows one to gain a better understanding of China.

Francesca de Lucia,Academic, Research & Teaching,Languages. Literature & Culture Jobs
---