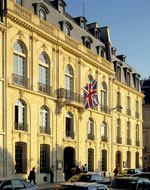 University of London in Paris
Dr Louise Lyle has been working in Paris for the last three years, in a small higher education institution that is part of the University of London. She is Lecturer in French and Comparative Studies and Associate Programme Director for the MA in Paris Studies at the University of London in Paris (ULIP). Louise also has additional responsibilities as an admissions tutor.
After graduating with a first class honours degree in French from the University of Glasgow, Louise obtained scholarship funding to study French Literature for her MA at the University of Pennsylvania. She then returned to the UK, worked towards a PhD and then secured a teaching post at the University of Birmingham followed by a lectureship at the University of Sheffield. Louise then moved to her post at ULIP in Paris.
Louise talked to jobs.ac.uk about her interesting role in Paris.
A varied role
Louise's role in Paris is similar to the work of many university lecturers – a traditional mix of teaching, administration and research. Teaching BA and MA students normally occupies about nine hours a week during term-time, with about another nine dedicated to preparation and marking.
"The teaching is really interesting as it includes literature, culture, contemporary civilisation and post-revolutionary history and is all delivered in French. The students mostly come from the UK, as they are enrolled onto a University of London BA degree. ULIP is a very small institute, with only 150 undergraduate and 25 postgraduate students in total. My special interests are intellectual and scientific history as read through 19th and 20th Century French literary texts.
"My latest research focuses on Social Darwinism in French Ideological fiction from 1880 to the present. Social Darwinism is the transfer of Darwin's theory of natural selection into the human, social, political and economic environment. It encompasses many areas, including political conflict, colonialism and gender issues."
Most of Louise's research is carried out on an individual basis, but, like most academics she collaborates widely with colleagues to co-edit publications and organise conferences.
Administration is another time-consuming part of Louise's work, and mostly involves extensive communication – with colleagues and students, both current and potential.
"I couldn't manage without email! My new role as admissions tutor means I am in touch with even more people, and this takes up much of my time. Teaching weeks can be quite frantic leaving little time for research. University vacations provide the ideal time for me to concentrate more fully on research. I am also a personal tutor for 35 students, whose welfare is a top priority, especially since they are studying abroad."
Moving to Paris
Louise's last lecturing job in the UK was on a fixed term contract. When that was due to end and she saw the job at ULIP advertised on the jobs.ac.uk website it seemed the perfect opportunity.
"The job offered the ideal blend of teaching, research and administration and the idea of living and working in Paris was appealing. The application process was quite straightforward as I was applying to the University of London. There is always stiff competition for jobs here at ULIP – 90 good applicants for each post advertised is not an unusual scenario.
"Once I moved to Paris everything went very smoothly. Having been offered the job, I went over to investigate accommodation options before starting work. My new colleagues helped me to find a suitable flat in one of the outer arrondissements within the Paris city boundary, which was much better than using an agency. Most days I enjoy a lovely walk home, which takes around an hour – across beautiful bridges and through some scenic parts of the city. In the mornings to save time I use the Metro, which provides a direct line from my flat to the university."
Clearly Louise did not face any of the language barriers often encountered when working abroad. She settled into her new role quickly and easily, making lots of new friends and enjoying all Paris has to offer.
"Everyone here at ULIP was very friendly and welcoming – although there was no formal induction programme, colleagues were keen to help me on a more informal basis. In terms of culture I am spoilt for choice as Paris has a wealth of museums, galleries, theatre and cinema. I make good use of my 'Teacher Card' which provides free entry to some cultural venues. Living here is generally more affordable than London.
"Paris is home to so many universities and it can be hard to keep up with all the academic events taking place, such as seminars and conferences across the city. But these provide great opportunities both for collaboration and networking."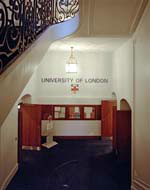 University of London in Paris
An inspirational environment
Louise is permanently settled in Paris and she has no plans to return to the UK at present.
"I like everything about this job – the location, my colleagues and the students. There is plenty of responsibility, and I enjoy the teaching and designing new courses, although the latter is a demanding aspect of my work. The job is really rewarding, even more so as I become more involved with the MA programme. The MA course has more of an international aspect than the BA, with students from America, Asia and the Middle East as well as Europe.
"The French people have been really friendly and accepting and living in Paris is so inspiring. It is the perfect location for academic research, with so many specialist libraries and archives on your doorstep. Sometimes I wish there was more time for my research though, as the teaching and administration workloads are very heavy. This is true for most academics, anywhere in the world!
"Paris is an international hub for French studies. Many recognised academics visit for seminars and meetings. The atmosphere here is very optimistic, which I find very motivating."
Louise's tips
"It can be very difficult for overseas academics to break into the French higher education sector, particularly for teaching within French studies. Here at ULIP I am working for a UK university, but vacancies within our small team of just six permanent staff are rare
There is an increasing move towards some teaching taking place in English, within sciences, engineering and management, so academic posts in these disciplines within French universities might be less competitive for foreigners
To enhance your job applications, make sure you are collaborating and networking widely and getting published in the most prestigious journals. This is true whether you want to work in France, or indeed anywhere in the world."
Forthcoming Publications
Social Darwinism in the French Ideological Novel, 1880-Present (Ashgate, 2012)
Special issue of L'Esprit Créateur on 'Genetics and French Culture', co-edited with Douglas Morrey, summer 2012.
Sarah Marten,Languages. Literature & Culture Jobs,Humanities Jobs
---