Giulia Falato is a Chinese language teacher and PhD student at the University of Rome "La Sapienza". She first visited China in 2004 as an exchange student in Shanghai where foreign students were uncommon and scholarships even rarer. Her past experience includes, but is not limited to: a three-month internship in Guangzhou and participation in the international Chinese language competition for university students; the "Chinese Bridge", or Hanyu Qiao. From 2009 to 2013 she lived and worked in Beijing as the Lecturer of Italian Language at Peking University — the Chinese equivalent of Oxford or Cambridge.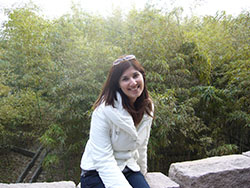 Giulia Falato
Why did you choose to work in China?
People might think that choosing a postgraduate experience in China was mandatory for students of the language, but for me it was actually an act of free will. I was already quite familiar with the country and had visited a few times. However, my final decision was mostly influenced by "external" factors: in 2009, at a time when the economic crisis was starting to effect Europe and the US, China seemed to be an oasis in the desert of anxiety and temporary jobs. It was a place to start an independent life and work in a rewarding profession.
How did you prepare for the move?
It was only two weeks before the start of the new semester that I was notified that I had been accepted for the job at Peking University. The resulting happiness was therefore overtaken by the stress of needing to plan my life for the following year in the space of just a few days. Luckily as a "foreign expert", or waiguo zhuanjia as they call us in Chinese, you get relatively helpful assistance throughout the moving process. International teachers and academic staff are usually entitled to free accommodation in Chinese Universities (and sometimes free flight tickets too!), so as soon as I was assured that I had a job and a roof over my head, I was ready to depart for my new Chinese adventure.
How did the visa process go?
The process to obtain a Chinese visa can be tricky. The number of things that can go wrong range from forgetting to submit a small piece of paperwork or getting caught out by a regulation you were not aware of, to finding mistakes on your brand new visa. By that time I had learnt from previous bad experiences and did my best to make the process run smoothly. That said, I left China at the beginning of 2013 and was not touched by the country's latest Immigration Reforms, which have brought a great deal of change and woe to foreign visitors using the visa system since 1 July 2013.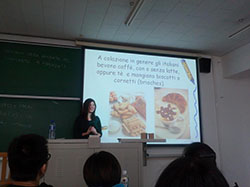 Class about Italian-Culture
What was it like in the first few days/weeks?
The memories of my first days in Beijing are mostly associated with (surprisingly) clear skies, which unfortunately didn't last long, and with my two Chinese assistants. The assistants were local students with a good grasp of foreign languages, entrusted to introduce me to the job and the various aspects of the life on campus. Every foreign university teacher is usually entitled to one or more assistants whose role is to act as linguistic and cultural mediators between the newcomer and the establishment. My assistants did their best to honour the Confucian concept of "hospitality", always ready to fulfil my every need and try to shield me from any culture shock. Still, it was a little awkward to have somebody always following me around or sitting in on my classes for the first few weeks, but they certainly taught me a lot about my new working environment and its rules.
What sort of work were you engaged in? How many hours did you work?
For the first few weeks in Peking University, the teaching and the preparation took up most of my time, even if I was technically only engaged in 10 hours of classes per week. I found myself quite free to organise my own schedule and the content of the lessons, as long as I respected the scheduling and honoured my deadlines. As I grew more confident with the job and familiar with the university system, I was also appointed other tasks, mostly related to tutoring and event planning. This allowed me to get in touch with other academic and diplomatic institutions in Beijing and to build an international network, which I found deeply useful and rewarding both professionally and personally.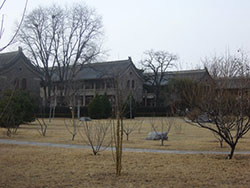 Some Department Buildings of Peking University
How did you find the Higher Education sector in China?
From the very beginning I was struck by the impressive complexity of the campus. Chinese Universities, like towns, encompass a number of facilities: from the staple residential areas, offices, teaching buildings, libraries and canteens to hospitals and sports centres. They become home to thousands of local students for at least four years, but they also attract visitors on a daily basis. Students seldom leave the campus, with the exception of a quick trip to town during the weekends. As for the work and research environment, the most impressive aspect is the amount of funding that departments and schools seem to enjoy, (especially compared with European universities) and the number of events and projects money is invested in. Like many other academic institutions in China, Peking University's key interests lay in student and teacher professional development, alongside cooperative research and exchanges with foreign universities. Peking University enjoys a great number of relationships with prestigious academic institutions all over the world, regularly hosting international exchange students, visiting scholars, and even political leaders.
The university staff's daily schedules are always filled with a number of interesting and informative activities.
How does Chinese university teaching differ from the UK and the EU?
Teaching has historically been, and remains today, a highly respected profession in China. A teacher's role is to share knowledge with the students, who accept it unconditionally. Some of the foreign students enrolled in Chinese university courses have told me that there is a lack of interaction between instructors and learners. There is a failure to encourage critical discussion among classes and students seldom ask questions. If they do, it's normally just a way to show off their knowledge. As a foreign teacher with international classes, I saw Chinese (and foreign) students slowly open up to me and learn to speak their mind. Perhaps the increasing collaboration between academics from different nationalities will eventually shake up the traditional Chinese hierarchy and improve communication between students and teachers.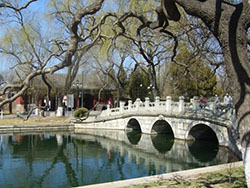 Bridge Near The West Gate Of Peking University
What is the social life like?
Living on campus felt like living in a small town such as might be found anywhere in the world. I ended up meeting a great deal of people and, given the variety of nationalities, could happily speak two or three different languages in the space of a few hours. I also got involved in a number of social and cultural events. I thought I had everything I needed, but it sometimes felt like I was living at work and somewhat ignoring "the outside world". After a few months I decided that I needed a break and moved off-campus to the other side of Beijing. The commute was long (about an hour), but I was able to enjoy the other aspects of the city – such as strolling around the old alleyways of the hutong area and meeting people outside of the Peking University community.
What have you enjoyed most about your time in China?
What I loved most about my time in Beijing was the feeling that you live in the very centre of the world, which is a way I have never felt anywhere else. I won't say that it's an easy place to live, nor that it is quiet or relaxing, but everywhere you look there's something going on — people from all over the world converge in Beijing seeking to fulfil some professional or personal ambition. Everyone has some plan or hope for the future and a proactive attitude, which is something that I haven't seen much in Europe lately.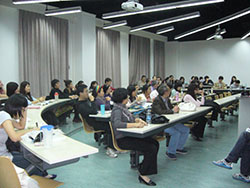 Our Classroom During a Conference.
Did you face any particular challenges?
Fitting in with a new country is never easy, and China is no exception. Its complex society, ancient and deep-rooted values and the language make even taking the bus or buying basic groceries quite a challenge. You need a strong ability to adapt and a great deal of patience, but when you are finally able to work things out on your own, the gratification you get is the greatest reward.
How has working overseas helped your career?
During my four years in China I saw many expats return to their own countries and after a few months complaining that they could not find a position as prestigious or rewarding as the one they had left. I personally used my time in Beijing to improve my Chinese language skills and to work out that teaching was what I wanted to do. This helped me take the right steps towards starting a career as a Chinese language teacher back home and allowed me to make the most of my experience overseas.
Here are a few tips for academics planning to move to the Middle Kingdom:
Bear in mind that China is more of a continent than a country: do some research or talk to people to find out what the province you are planning to move to is like, and if it is really what you are looking for.
Chinese people speak Mandarin (or even just the local dialect!): the population of English learners is growing fast in China, but I think that the best way to understand their culture, and to earn some respect and acceptance, is to use Mandarin — even at a basic level.
Remember, China does not need to be forever: if you are planning to return to your home country, don't lose touch with reality. It's easy to be overwhelmed by the opportunities in China, but try to keep your feet on the ground and your eyes open for the way demands and changes of the international job market and move accordingly.



Giulia Falato,Academic, Research & Teaching,Languages. Literature & Culture Jobs
---