by Sarah Marten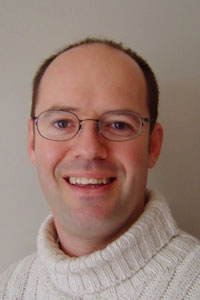 Dr Clive Sabel
Dr Clive Sabel spent three years working in the Geography department at the University of Canterbury, Christchurch, New Zealand from 2004-2007. He was initially appointed as a lecturer, but within six months was promoted to senior lecturer at Canterbury, which has an excellent reputation in NZ. Clive recently talked to Sarah Marten about his experience of working in New Zealand.
Why did you choose to work in New Zealand?
I had visited New Zealand previously and loved the country, so when I saw the post advertised at the University of Canterbury via the jobs.ac.uk website I decided to apply. I had also enjoyed working alongside colleagues now at Canterbury during my PhD days.
NZ offers a really good lifestyle choice – the people are relaxed and have a sensible work life balance. The job at Canterbury offered a good academic position in a lovely part of the world.
What was the process of applying for a job overseas like?
After seeing the position advertised I forwarded an academic CV and covering letter in the normal way. The interview process was conducted in two stages, the first part being a phone interview lasting about 45 minutes. I was delighted to be on the shortlist of four candidates, all of whom were flown out to Christchurch for a week-long selection process.
As well as a formal job interview, I was also asked to deliver a lecture to students whilst being observed. In addition I attended a series of meetings with members of staff, which also fed into the assessment process. Going out for dinner with my potential new colleagues concluded the selection, and I was delighted to be offered the post.
How did the visa process go?
Applying for a visa to work in NZ is daunting and complicated. The process includes completion of a very long document which asks you about many aspects of your life, including financial and health information. NZ has a points based immigration system, and you must demonstrate that your skills will be of value to the country, and also that there is no-one locally available to fill the post.
The University of Canterbury did help me with my application, in particular by meeting the substantial cost, which ran to several hundreds of NZ dollars. The visa process is a significant hurdle, and without a job offer I would not have been successful.
How did you prepare for the move?
I was offered the job in late November, and moved to NZ at the beginning of April in 2004. The visa application itself takes several months to process, and when you are moving to the other side of the world with your wife and young toddler there is a tremendous amount to organise. This includes everything from arranging the shipping of your furniture and belongings, to closing bank accounts and selling your car. Luckily our son had not started school at this stage, because moving schools would have made life even more complicated.
Although very excited at prospect of moving to NZ, we were also nonetheless apprehensive about leaving friends and family. At this stage we had no idea how long we might stay, but agreed that we would go for five years and see how everything went. We were thinking that if we enjoyed life in NZ, we might possibly never return to live in the UK again.
What was it like in the first few days/weeks?
Everyone in the University of Canterbury made us feel extremely welcome, and the whole experience of settling-in was overwhelmingly positive. My new colleagues were incredibly supportive. My wife, who was looking after our young son and expecting another baby soon, was also very well looked after as part of this supportive network.
For the first three weeks we lived in university accommodation, which was a typical NZ timber-built house, and very cold in winter. We soon decided to find our own accommodation, and were eventually able to buy a beautiful modern multi-level hill property on the edge of Christchurch. We could have never bought a property like that for the same money in the UK.
Although the transition to life on the other side of the world was relatively straightforward, there are nevertheless big differences between the two countries. The process of settling in and feeling at home does take time.
What sort of work were you engaged in?
I was employed as a lecturer in Geographical Information Systems (GIS). So as well as teaching, preparation and marking, I was also writing new courses from scratch. I was responsible for the development of three courses, effectively establishing a new pathway and sub-discipline, which required a huge amount of effort and energy.
How is the Higher Education sector different in New Zealand?
Universities in NZ are far more focussed on teaching and less on research than those in the UK. In 1992 government-funded "Crown Research Institutes (CRI)" were set up to undertake academic research, which would be a function of universities in the UK. The CRIs have since been privatised, but nevertheless still receive government funding and essentially have the same functions.
Because of this emphasis on teaching, I spent much longer on teaching and preparation than a similar post in the UK would have required. However, in NZ there is a perception that there is less academic pressure to perform than the UK, where universities are more target-driven. However, the NZ universities are increasingly moving closer towards the British model.
The academic discipline of geography is very similar in both countries, which helped to smooth the transition. Once a year I was encouraged to attend a major international conference in the UK or Europe, and I found that our academic philosophies and trends were global.
Were you able to undertake any research at the University of Canterbury?
I was actively encouraged to pursue various research interests during my time at the university. A successful grant application from the NZ Health Research Council enabled me to work on a project looking at the geographical aspects of multiple sclerosis, since MS appears to have a latitudinal gradient.
In another interesting research project with colleagues from the university, we investigated the factors influencing road traffic accidents in children from deprived communities. Our findings indicated that such children are indeed more likely to suffer road accidents, for a variety of reasons including the fact that large roads are often situated close to poorer communities, and the children may also be less supervised. The results of this research may be directly translated into improving children's lives, for example with the introduction of traffic calming measures.
What about the New Zealand students?
Practically anyone can go to University in NZ, and students come from much wider socioeconomic backgrounds than UK students. A place at university is not as tied to performance in school-leaving examinations as it is in the UK. Clearly subjects such as medicine, dentistry and engineering still have stringent entry requirements, but with subjects like geography entry is not as competitive. However, given the wider variety of students' backgrounds, the commitment to Higher Education is often greater than in the UK.
Life in NZ tends to be quite relaxed and laid-back and this extends to school and student life as well. I personally feel that this easy-going attitude is very positive, and shows itself in both the performance and happiness ratings of NZ children at school when compared to the rest of the world. They don't have the UK obsession for league tables and SATs tests!
The kiwi lifestyle outside the university translates into the lecture theatre, and it is perfectly normal for students to show up for lectures in beach attire and flip-flops.
However, NZ students have a very positive approach to life, and are also prepared to work hard. Lots of support is provided by the university to ensure that these students succeed, and I offered an open-door policy and provided lectures online to facilitate learning.
Most of the students on our Geography courses were NZ nationals, although we also had students from the Pacific Rim, namely Asia, China, Japan and Malaysia.
Has the experience of teaching in New Zealand helped your academic career back in the UK?
My post at the University of Canterbury undoubtedly gave me far more responsibility than would have been possible at this level in the UK, which subsequently helped to fast-track my career on returning to Britain. Designing courses, sitting on university-level committees and working with industry have all given me invaluable experience that my contemporaries working back in the UK probably did not have.
What was the social life like?
Making friends was hard for me as I was working long hours and there was lots of preparation to do and we had two very small children to look after. Most of our friends were expatriates from the university, and we found it quite hard to get to know kiwis along our road – we always had the feeling that we were seen as outsiders. My wife, found it easier to make friends with local people, by attending toddler groups and other activities with our children.
What was the best moment during your time in New Zealand?
Clearly the birth of our daughter, soon after we arrived in NZ was a significant moment, but academically, the whole experience of working in NZ has had an amazing influence on my life.
The natural environment in NZ is incredible, and many weekends we toured the Southern Alps, and enjoyed camping, skiing and surfing trips along with our two young children. We were also able to visit Australia and some South Pacific Islands. The outdoor lifestyle had attracted us to NZ in the first place, and it did not disappoint.
What was the worst moment?
Being so far away from friends and family, having our children so far from their grandparents, with loved ones on the other side of the world was very difficult. We had thought we might fly back to the UK quite regularly, but flights are expensive and we didn't want to add to our carbon footprint either.
In the end the lack of drive and ambition in NZ also got to me, and I didn't feel particularly fulfilled at work. My wife and I faced an agonising decision regarding our future, whether to stay in NZ or to return to the UK. This was a very difficult thing to face, but in the end after I was head-hunted by Imperial College London we decided to come home.
Have you got any advice for other academics planning to work overseas?
Think very carefully about the implications of working abroad, particularly with respect to family, children, schooling and so on. Your friends and family will be a very long way off.
I virtually had to write off my pension for the time I was in NZ. Although I joined the NZ pension scheme, the salary is lower and the employer's contribution is less than the UK. This is another important factor to consider when working overseas.
Overall the experience of working in NZ was extremely positive and has really benefitted my career in the UK.
Biography
Dr Clive Sabel's first degree is a BSc in Geography from the University of Lancaster. After graduating Clive continued his studies at Edinburgh to take an MSc course in Geographical Information Systems, which he describes as the hardest academic year in his life. He was then appointed Research Assistant at the University of Cambridge, where he contributed to the "Domesday 2000" project, the National Land Information System (NLIS).
Clive then moved to France for a year, working again as a Research Assistant, this time at the Institute of Alpine Geography in Grenoble. The next two years were spent travelling the world, enjoying a welcome break from the world of academia, when he also visited NZ for the first time. Upon returning to the UK, Clive undertook his PhD at Lancaster University, researching into environmental exposure and health. After completing his doctorate industry beckoned and Clive spent about a year working for a GIS software development company in Nottingham.
This time in industry gave Clive a useful introduction to the commercial world, but he nevertheless decided to return to the world of academia, moving to the University of St Andrews in Scotland as a Postdoctoral Research Associate in GIS and Health. After two years Clive moved to Sweden to undertake further research within the same discipline. The work in Sweden involved undertaking interesting research into why deprived communities are more prone to health problems.
After working as a lecturer at the University of Canterbury in NZ for three years, he returned to the UK, becoming Principle Research Fellow in the Department of Epidemiology and Public Health, Imperial College London. Clive is now Associate Professor in Human Geography at the University of Exeter.
---