Why did you choose to work in New Zealand?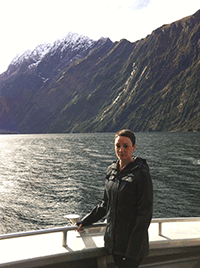 Laura Southgate at Milford Sound
My decision to work in New Zealand was largely based on luck and circumstance. Upon completion of my Masters, I decided that I would like to apply for a PhD. My research focus was on the international relations of Southeast Asia, and I wanted to pursue this topic for my PhD. It therefore made sense to apply to universities in the Asia-Pacific, where my research would be more relevant, and the opportunities for funding greater. I initially settled on Australia. However, when I contacted my MA supervisor for a reference, he informed me that he had recently moved to the University of Otago in New Zealand. He suggested I apply for a PhD there, and that he would supervise my research. I was fortunate enough to receive an offer and a scholarship, and I accepted immediately. I believed that studying in New Zealand would allow me to travel to a new country and gain new experiences, in addition to further pursuing my research.
How did you prepare for the move?
The University of Otago was instrumental in helping me to prepare for my move. I received a pack in the post designed for international students moving to the country for the first time. The pack continued advice on housing, local services and amenities, university clubs and societies, as well as information on the university itself. Through the university, I arranged accommodation at an international postgraduate college. I was also able to arrange travel and medical insurance through the university, which saved a lot of time. Although I received my place at Otago fairly quickly, I decided not to take up the position for six months. This gave me plenty of time to save some money and apply for my visa.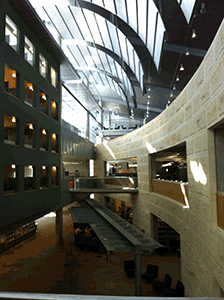 University of Otago Central Library
How did the visa process go?
The visa process went smoothly. The university provided me with the relevant documents I needed to prove my eligibility for a student visa. I also had to submit a police certificate and medical certificate. These were costly and time consuming to obtain, but I was lucky that I had no problems. I would recommend that you start the visa process as soon as possible to counter for any delays, and to read the forms carefully and submit everything requested. I found the people at NZ Immigration very helpful at dealing with any queries, and I would recommend anybody not sure about the process or what is required to contact them. This could ultimately save you a lot of time and money.
What was it like in the first few days/weeks?
Settling in was difficult at first. The flight from the UK was long, and it really hit home how far removed I was from family and friends. Luckily, the University of Otago has been very supportive. They often organise postgraduate events, which helped me to meet other people in a similar situation. Likewise, I found the university accommodation a good environment to meet other students. However, I did find it difficult settling back into a shared housing environment, and this might not suit everybody. I spent the first few weeks acclimatising to my new surroundings, and generally enjoying the summer weather after leaving a cold and wintery UK.
What sort of work were you engaged in? How many hours did you work?
Whilst I initially considered applying for jobs within the university upon arrival, at the recommendation of my PhD supervisor I spent my first two years concentrating solely on my PhD. This allowed me to get ahead with my research. In my third year, I took a position as a Research Assistant to the Head of Department, and also took a position as an academic tutor for one of the modules run by the department. As research assistant, I am expected to work up to eight hours a week performing a variety of research related tasks. This generally involves utilising primary and secondary source information to write reports or submissions, proofreading and editing, or searching for relevant literature. The hours for academic tutor vary depending on how many groups I am teaching, but generally don't exceed 3-4 hours a week unless there are assessments to mark. As a tutor, I help facilitate group discussions with students based on material they have covered in their lectures. The role also involves marking assessments and generally acting as a first point of contact for student queries. Juggling the PhD, tutoring and research assistant role can be taxing at times. However, these are transferable skills, and I find that each role benefits from the other.
How did you find the Higher Education sector in New Zealand compared to previous experience?
I have found the New Zealand system more relaxed compared to my previous experience studying in the UK. The relatively laid-back culture is evident at both the undergraduate and postgraduate level. There is a very good rapport between lecturers and students, and students are comfortable approaching academics and tutors alike. University entrance requirements in New Zealand also differ from the UK, and my experience is that they are more inclusive as a result. As such, the university attracts a wide range of students from across New Zealand and beyond. Teaching groups tend to be very diverse, and I believe this enhances the university atmosphere and the students learning experiences.
How does New Zealand university teaching differ from the UK and the EU?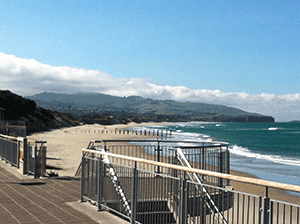 Dunedin Beach
I believe teaching in New Zealand is similar to the UK, although there are some notable differences. First, the grading system in New Zealand differs from the UK, and is based on A-D grades rather than degree classifications such as 2:1, 2:2 etc. This can take some getting used to at first, especially when marking assessments for the first time. Also unlike the UK system, many students in New Zealand spend three years completing a general Bachelors degree, and can then choose to spend an additional year studying for an Honours degree. The Honours Degree is similar to a postgraduate degree and involves additional papers and a dissertation. These factors aside, actual teaching is very similar, and is usually based on a combination of lectures and tutorials. I have found the quality of teaching in New Zealand to be excellent, and the universities attract academics from all over the world.
What is the social life like?
I have found the social life to be similar as in the UK, although as a student town, Dunedin does get noticeably quieter in the holiday months when students go home. Even during these periods however, there are plenty of high quality cafes, restaurants, markets, pubs and bars to go to. There are also cinemas, theatres and various festivals on at different times of the year. Many people in Dunedin, and New Zealand as a whole, pursue an active lifestyle, and there are numerous mountain-biking and tramping routes around the city. There are also beaches for surfing and ski slopes situated only a few hours drive away. There is very little opportunity to get bored here, no matter what your preferences are.
What have you enjoyed most about your time in New Zealand?
The most enjoyable aspect of moving to New Zealand has been the travelling I have done whilst here. I have spent much of my spare time exploring New Zealand, from whale watching in Kaikoura to wine tasting in Waiheke Island. New Zealand has a lot to offer, and I would recommend anybody coming here to make the most of this beautiful country. It is also important to take a break whenever possible. Studying whilst working can be tiring, and it is important you don't burn out. Weekends away are a perfect way to relax and see some of the local environment.
University Clocktower
Did you face any particular challenges?
The most challenging aspect about moving to New Zealand was leaving behind friends and family. Due to the distance from New Zealand to the UK, and the cost of travel, I have not been able to visit home as much as I would like. Doing a PhD can be a lonely existence at the best of times, and this is accentuated when moving to a country so far removed from home. However, this can be overcome. There are plenty of opportunities to meet people through the university and through local meet-up groups, and the locals are warm, friendly and inviting. It is just a matter of getting out there and making some connections.
How has working overseas helped your career?
I feel that I am in a much better position to advance my career after moving to New Zealand to work and study. Aside from the PhD, which will undoubtedly help my career once completed, I have also developed teaching and research skills that I did not have previously. As a country with a small population, I believe there are more opportunities to advance your career in New Zealand than perhaps in the UK, where competition for roles is high. At the University of Otago, I have been privileged to receive a scholarship, work on research tasks with the Head of Department, and teach and engage with students through tutoring. I don't believe I would have received these same opportunities had I stayed in the UK to study, and I believe I will gain a better career because of this.
Have you got any advice for other academics or students planning to work in New Zealand?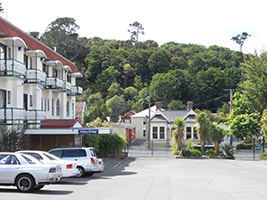 Postgraduate Housing
1. Housing in New Zealand can be low quality and very expensive. Many people who move from countries such as the UK are surprised by the lack of central heating, insulation or double-glazing. I would advise anybody moving from abroad to find accommodation once you have arrived, rather than arranging anything from a distance. Speak to your university and enquire about short-term university owned housing as an option while you find somewhere to live.
2. If possible, spend a few weeks in New Zealand acclimatising before starting work. Travel to New Zealand is long and tiring, and it can take a while to settle in. I would recommend taking time to explore your new surroundings, including neighbouring cities or sightseeing attractions. You are inevitably going to be very busy once you start work, and you will be glad you took this opportunity when you arrived.
3. For students who plan on moving to New Zealand to study or work, I recommend making the most of what your university has to offer. Attend conferences, events, socials and functions wherever possible. You will make friends, as well as professional connections. Also, don't be afraid to take on paid roles within the university. Whilst it may be time out of your research, you will develop skills that will help you gain employment when you finish.
Laura Southgate,Academic, Research & Teaching,PhD Studentship
---