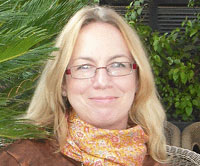 Dr Wendy Dossett
Senior Lecturer in Religious Studies
at the University of Chester
Dr Wendy Dossett works at the University of Chester, combining a busy role as a lecturer to undergraduate and postgraduate students with a fascinating research programme. She is part of a small team within the Centre for Faiths and Public Policy working on the "Higher Power Project", which is a qualitative study into "Twelve Step" spirituality programmes for people recovering from a range of addictions including alcohol.
Twelve Step programmes, the most well-known of which is Alcoholics Anonymous (AA), use the notion of a "Higher Power", to help people to overcome their addiction. Over 40,000 people are currently sober in AA across the UK. Many more are involved in groups for other addictions including gambling, drugs and compulsive behaviours. These groups have been shown to be highly effective for a great many people.
Wendy has recently convened a conference at the University of Chester, entitled "Addiction: A spiritual illness with a spiritual solution?" which attracted speakers and delegates of international standing.
"Our research work here at the University of Chester looks at the nature of the spiritual awakening or psychic change that occurs when people with addictions follow Twelve Step programmes. We're particularly interested in the language that people use in relation to their Higher Power – for some this is specifically religious, and for others more secular. Trying to understand whether this experience is religious, secular or spiritual is not always that straightforward. For some the Higher Power may come from within the group, or from within themselves, rather than as an external deity or power."
Developing a sense of a Higher Power, which could be labelled as "God" or even something as simple as a "group of drunks" is key to sobriety in Twelve Step spirituality, as the alcoholic comes to realise that they are powerless over their behaviour, and they have no choice. And it's not about willpower as Wendy explains:
"People who are addicted to alcohol or other substances, and those that love them often believe (wrongly) that they lack willpower. Twelve Step spirituality involves the addict accepting that they are powerless over their own behaviour, and in order to get the power to abstain they have to find a Higher Power, however that is perceived. At present our research is looking at how a small group of 18 participants, who are all in recovery, interpret that Higher Power, using qualitative data in the form of narratives. We're using the software package NVIVO 9 to help with the analysis of our data. My colleagues here at the University of Chester have helped us develop the necessary social science methodology, and the data we use are based very much on people's personal stories."
Wendy's research is ground-breaking – although numerous researchers have previously examined the role of spirituality in addiction recovery – few have investigated the language of Higher Power, or considered the phenomenon from the perspective of the wider field of contemporary spirituality in general.
"Our research is important because professionals such as social workers and doctors have often been reluctant to recommend Twelve Step fellowships to their clients or patients, in the belief that they are recommending religion. In addition the media often represent the Twelve Steps in a traditionally religious or overtly Christian way. But in reality the majority of people who follow such programmes develop their own sense of a Higher Power, which is not necessarily distinctly Christian or even recognisably religious. This is in contrast to the early days of AA in the US during the 1930s, when the programmes had a distinctly Christian basis."
Wendy hopes that her research, by mapping different understandings of Higher Power experiences, will inform professionals working within addiction as well as the public and government.
"The economic impact of addiction recovery is immense – not only on the state, welfare, medicine but also institutions like prisons and of course the family."
Wendy's job as a senior lecturer also includes between six and eight hours per week of teaching. She teaches Buddhism and Religious Education to undergraduates on the BA Religious Studies course, and is Programme Director for the MA in Religious Studies.
Funding is a vital aspect of any university research and this is no different for Wendy.
"Submitting grant applications and securing appropriate funding can be quite stressful and I find that taking life "one day at a time" really helps with this! It is important to raise awareness of our research – for example we were awarded a small grant for our conference. The report we made to our funders means they know a bit more about what we are hoping to do long term, which might help us in future bids. It is important to establish relationships with grant-awarding bodies. We've arranged meetings with key personnel and we send them details of all our activities. Developing that relationship also gives me the opportunity to find out more about what grant-making bodies are looking for when they award funds. Bringing together a group of 'critical friends' to the project has also been invaluable – experts from both inside the University of Chester and from other universities who are able to give us advice and feedback.
"I really love the fact that this job enables me to indulge so many of my interests. I'm fascinated by spirituality and how others find meaning in life. I am so lucky to have such a supportive Senior Management Team and departmental colleagues. Working collegially with an inspiring team of scholars who are driven by a commitment to relate academic work in theology and religions to issues of social justice has played a major role in getting our project off the ground."
Biography
After graduating with a degree in English Literature and Religious Studies from the University of Wales, Lampeter, Dr Wendy Dossett embarked on a PhD in Japanese Buddhism, which included spending six months in a Buddhist temple in Tokyo. Whilst completing her PhD on a part-time basis Wendy also obtained a PGCE, and spent the following six years working in a teacher training college training RE teachers and lecturing in RS to BA students. She has more than ten years' experience as a principal examiner for the WJEC exam body in Wales, which includes writing A- Level syllabuses and setting papers. Wendy is also Secretary of the Shap Working Party for Religions in Education, a lobby group which exists to ensure that religious education embraces all sectors and faith communities.
In 2001 Wendy returned to the University of Wales, Lampeter, to take up the post of Associate Director of the Alister Hardy Religious Experience Centre, which holds over 6,000 accounts of religious and spiritual experiences from the general public. She spent nine years at the University of Lampeter, working alongside well-known academics including Professor Paul Badham. She worked for a year teaching the Twelve Steps in a Drug and Alcohol Addiction Rehabilitation Centre and, in 2010, Wendy became a Senior Lecturer in Religious Studies with the University of Chester's Department of Theology and Religious Studies.
To find out more about the Higher Power Project – see www.chester.ac.uk/higherpowerproject
Sarah Marten,Academic, Research & Teaching
---