If you're tempted to enrol on a TEFL course, you will probably notice that there's a mountain of information on the Internet pulling you one way or another. Deciding what is best for you is paramount, so it's a good idea to ask yourself some key questions. Are you looking for a gap year opportunity? Where are you interested in going? What foreign language are you hoping to learn/improve? Are you interested in teaching adults, teenagers or children?
Teaching English abroad is a career open to many different people. TEFL can be perceived as a way for gap-year students to pass the time or something that exists purely to fund travels. In reality, though, TEFL is a serious career path that has long been popular with people of all ages. Since the financial crisis, it has increased in popularity with those who want to change their life/career or who have, unfortunately, been made redundant.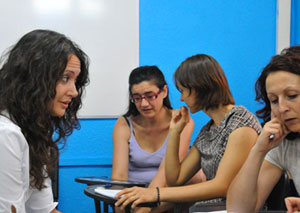 English being taught to adults in Madrid
Why pursue TEFL?
If you want to change your career (or simply need a job), TEFL is a serious option. Teaching English can even be a stepping-stone to achieving something bigger. For example, it can help you to make the transition between university and your first graduate job, start a second career, or simply be a way into a new life in a new country.
Whatever your reason is for wanting to teach English, there are some things you should think about when you're trying to find a course that's right for you. As there are so many options, you should make sure that what you're signing up for is the right thing.
Advice on choosing a TEFL course
If you are choosing TEFL as a way to start a second career, moving to a location that has many businesses will enable you to meet all the right people. You may be teaching senior managers and company directors, which can help you to make useful contacts.
If you want to teach English as a long-term career, working in a country where the TEFL industry is very organised and already well established will make your progression a lot easier. You could move into teacher training, class co-ordination in a teaching agency, or ultimately becoming a director of studies. It is possible to do a distance-learning MA in TEFL via the internet while teaching.
If you want to use TEFL as a means of combining work and travel, studying for a qualification in another country is a smart move. You'll have an immediate circle of both friends and colleagues to settle you into a new location which makes the move less daunting.
If you want to use TEFL to travel around several countries then you've got to make sure that your chosen TEFL course is accredited. This means that it meets the criteria of 120 study hours and 6 observed practice lessons as set out by the British Council. It should also be accredited by an external body that ensures the quality of the course. You should bear in mind that many academies and language schools are looking for permanent employees and may not hire you if you're only going to be in the country for 2 months. Make sure you look for short-term placements or volunteer projects.
Top tips
Before choosing a TEFL course, make sure it meets the following standards that ensure good quality training and the support and assistance you need.
The course should be accredited by an external body. Don't be fooled by slogans such as 'internationally recognised' – it's marketing talk and nothing more
The course should have a comprehensive grammar programme. This is often the toughest part of the course but you need to know what you are talking about when you enter the classroom
You must do real teaching practice on-site that is observed by experienced trainers. There should be a minimum of 6 practice lessons
The course should also prepare you for the market you are entering. In Spain, for example, exam preparation skills and telephone teaching are essential
Although most courses focus on adults, a course that introduces you to teaching children and teenagers will open up new options
The TEFL course provider should offer assistance with accommodation, visas, bank accounts, and legal paperwork
They should have a comprehensive job support programme to help you get work after the course
The focus should be on the course and not the party! The course should be demanding and intensive, and the focus should be on learning, not socialising
Go with your gut feeling. Each school is different so do your research, pester them with questions, get in touch with former graduates and go with the one that gives you the best 'feeling'.
Choosing a location
Choosing to live in a country that appeals to you is vital. Although TEFL methodology is such that you may never have to use the language of your students in the classroom, there are many advantages to learning the local language, such as the ability to make new friends. Picking up some basic phrases before you go will help you get around in the first few weeks. Lifestyle is another important factor when choosing a location – make sure you find somewhere that appeals to you, and somewhere you can adapt to easily.
The TEFL school will be able to help you with accommodation, visas and bank accounts. This is something you'll appreciate when you are trying to complete a TEFL course at the same time as finding somewhere to live and sorting out your finances.
Remember that while TEFL can be an exciting and thrilling career, it pays to be sensible in your choices to ensure your new experiences are trouble-free and manageable. You won't regret it.
Check out TEFL courses and see which one works best for you, and see this article for more advice.
---